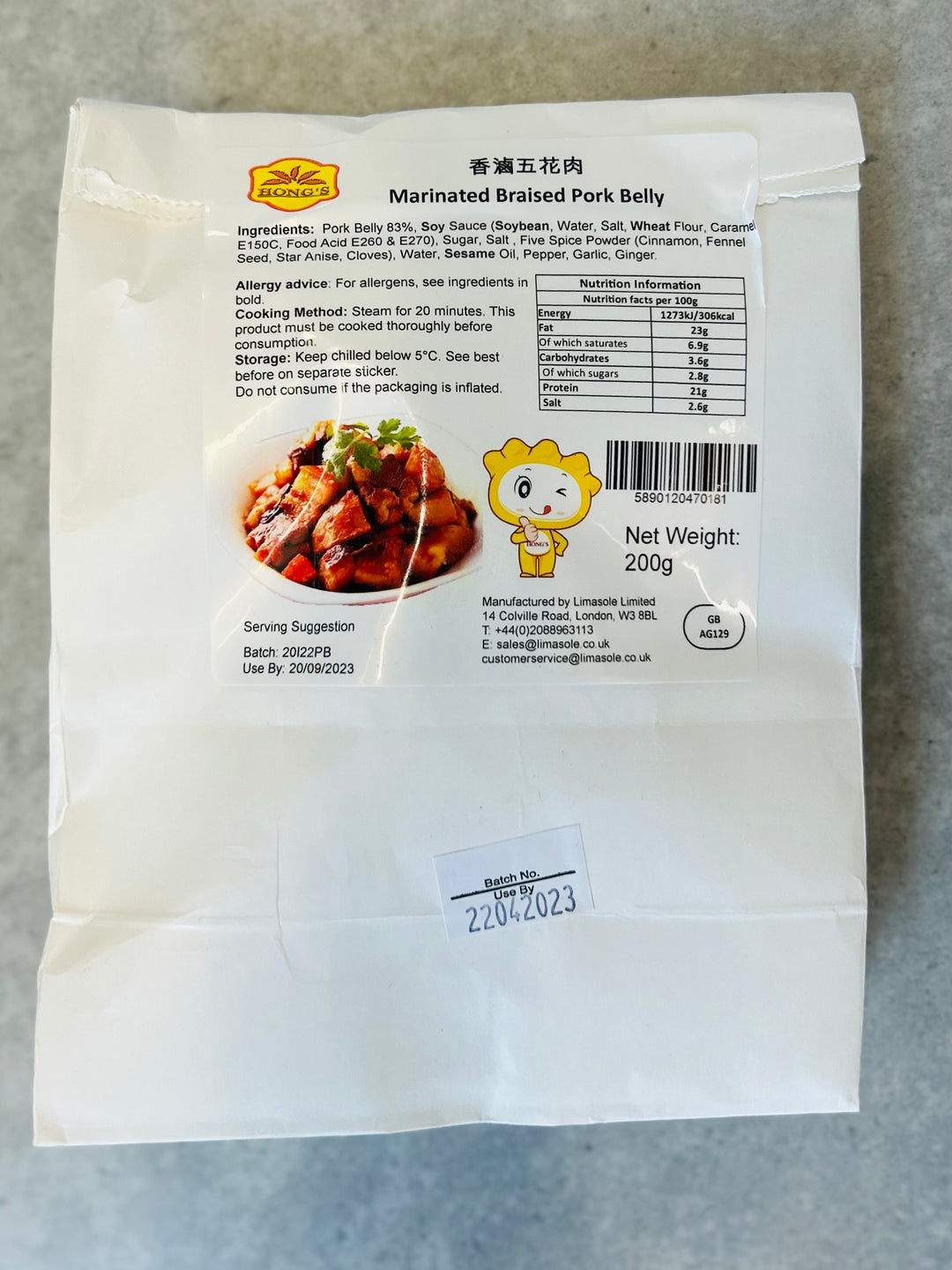 香卤五花肉200g Marinated Braised Pork Belly
Regular price
£6.59
/
Tax included.
Shipping
calculated at checkout.
---
Local Delivery Within 1 Hour, Up to 5 mile
Low stock - 4 items left

Inventory on the way
Marinated Braised Pork Belly - 200g
Product Description:
Indulge in the rich and savory flavors of Marinated Braised Pork Belly, a delectable culinary delight that offers a perfect blend of succulent pork and aromatic marinade.
Key Features:
Premium Pork Belly: Our Marinated Braised Pork Belly is made from high-quality pork belly, known for its tender meat and balanced fat-to-lean ratio.

Exquisite Marinade: The pork belly is marinated in a flavorful blend of aromatic spices, herbs, and seasonings, creating a harmonious taste that's both savory and satisfying.

Ready to Eat: This pre-marinated dish is fully cooked and ready to eat. It can be enjoyed cold or heated up for a warm and comforting meal.

Versatile Usage: Marinated Braised Pork Belly can be enjoyed on its own as a tasty snack, paired with steamed rice, or added to various dishes to enhance their flavor and texture.
Cooking and Serving Suggestions:
As a Snack: Slice the Marinated Braised Pork Belly into bite-sized pieces and enjoy it as a savory and satisfying snack.

Rice Topping: Serve the pork belly over a bowl of steamed rice for a hearty and flavorful meal.

Noodle Dishes: Add slices of Marinated Braised Pork Belly to noodle soups or stir-fried noodles for an extra layer of taste and texture.

Appetizer: Use the pork belly as a delicious appetizer to kick off your meal.
Discover Culinary Delight:
With its irresistible blend of tender pork and well-balanced marinade, Marinated Braised Pork Belly offers a taste sensation that is sure to captivate your palate. Whether you're seeking a convenient snack or an ingredient to elevate your dishes, this marinated pork belly brings a burst of flavor and a touch of indulgence to every bite. Enjoy the convenience of a ready-to-eat delicacy that's perfect for any occasion.
香卤五花肉 - 200克
产品描述:
香卤五花肉融合了鲜美多汁的猪肉和浓郁的香料,呈现出完美的口感和美味。
主要特点:
优质五花肉: 我们选用高品质的五花肉,肉质鲜嫩,脂肪和瘦肉的比例恰到好处。

精致的腌料: 五花肉经过精心调味,融合了芳香的香料、草药和调味料,味道浓郁而令人满足。

即食美味: 这道已经腌制好的菜品可以直接食用,既可以冷食,也可以加热享用,让您尽情品尝美味。

多用途: 香卤五花肉可以单独享用,作为美味的小吃,也可以搭配米饭或添加到各种菜肴中,提升口感和风味。
烹饪和食用建议:
小吃: 将香卤五花肉切成小块,作为美味的小吃品尝。

拌饭: 将五花肉切片放在蒸熟的米饭上,享受美味的拌饭。

面食: 将香卤五花肉加入面条汤或炒面中,为食物增添口感和风味。

开胃菜: 将香卤五花肉作为开胃菜,为您的餐桌增添美味。
探索美食乐趣:
香卤五花肉的鲜嫩肉质和精心搭配的腌料将为您的味蕾带来难以抗拒的美味。无论您是想要一个方便的小吃还是想要为菜肴增色添香,这款腌制五花肉都会为每一口带来丰富的风味和愉悦的体验。尽情享受这款即食美味,无论是在任何场合,都能带来美味满足。
Currently, we offer shipping services within the United Kingdom, and we also offer local delivery within 10 miles.
Within 2.5 mile
Less Than £15 - £1.99 delivery fee
Over £15, Free Delivery.
2.5 Mile to 5 Mile
Less Than £30 - £3.99 Delivery Fee
Over £30, Free Delivery

5 Mile to 10 Mile
Less Than £100 - £9.99 Delivery Fee
Over £100, Free Delivery