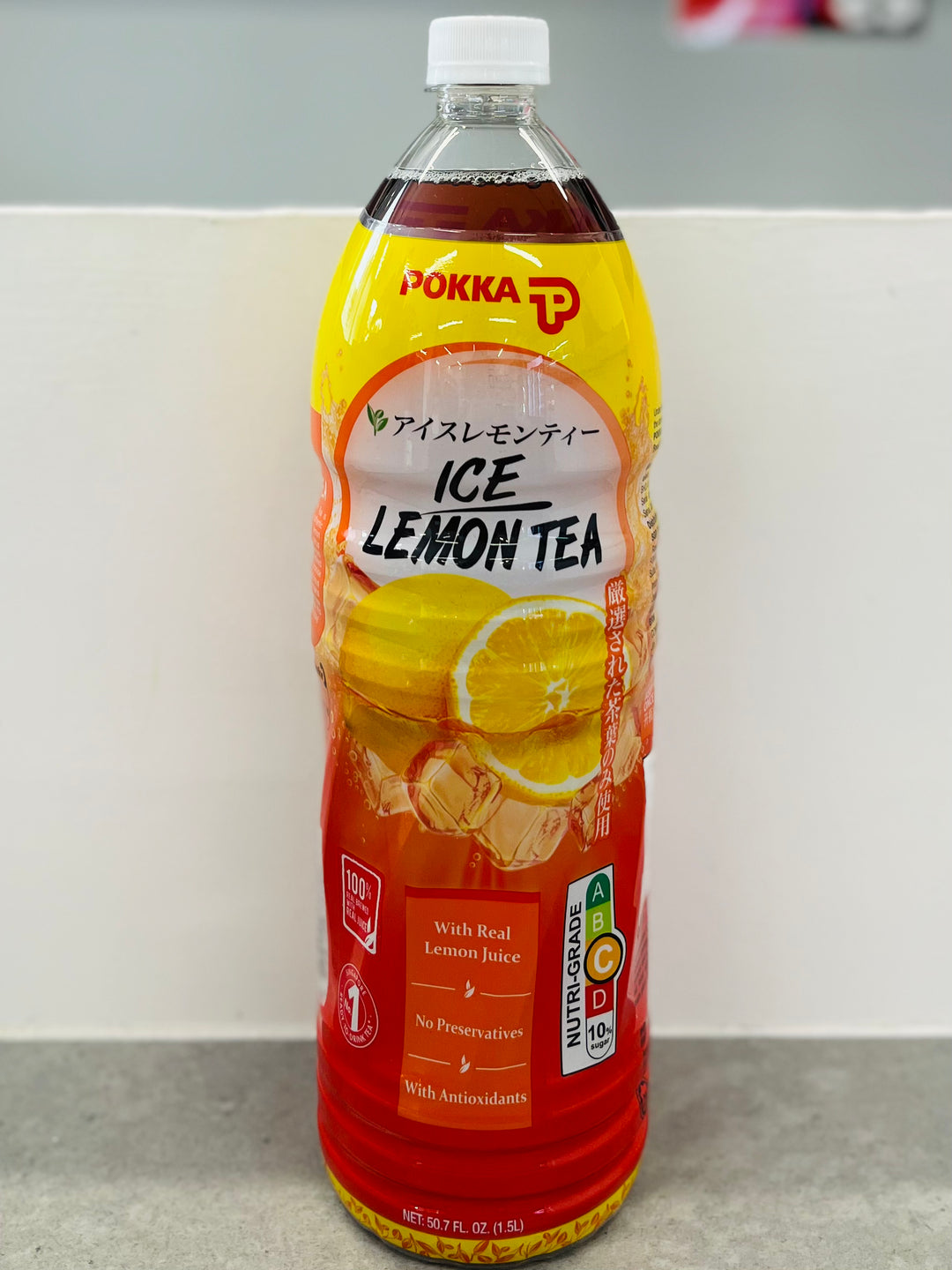 Pokka Ice Lemon Tea 1.5L
Regular price
£5.39
/
Tax included.
Shipping
calculated at checkout.
---
Local Delivery Within 1 Hour, Up to 5 mile
In stock, ready to ship

Inventory on the way
Pokka Ice Lemon Tea 1.5L - Refreshingly Tangy and Delicious
Description: Indulge in the delightful taste of Pokka Ice Lemon Tea, a perfect thirst-quencher for any occasion. This refreshing beverage comes in a convenient 1.5L bottle, providing you with plenty of tangy goodness to enjoy. Made with the finest tea leaves and real lemon juice, Pokka Ice Lemon Tea offers a well-balanced and invigorating flavor that will keep you coming back for more.
Key Features:
Premium Ingredients: Pokka Ice Lemon Tea is crafted using high-quality tea leaves and real lemon juice, ensuring an authentic and satisfying taste.

Refreshing and Tangy: Experience the invigorating burst of lemony goodness with every sip, making it an ideal choice to beat the heat and quench your thirst.

Convenient Size: The 1.5L bottle is perfect for sharing with family and friends or keeping in the fridge for a refreshing drink anytime.

Natural and No Preservatives: Enjoy the pure taste of real tea and lemon without any added preservatives or artificial flavors.

Versatile Beverage: Whether it's a picnic, gathering, or a simple meal at home, Pokka Ice Lemon Tea complements your moments with its delightful flavor.
Elevate your beverage experience with Pokka Ice Lemon Tea's natural goodness and tantalizing citrus taste. Grab your 1.5L bottle at La Mart Asian Supermarket today and embark on a refreshing journey with every sip.
Pokka 冰柠檬茶 1.5升 - 清新酸甜,美味滋味
描述: 尽情享受Pokka 冰柠檬茶的美味,这是一款适合任何场合的绝佳解渴选择。这款清爽饮品装在方便的1.5升瓶中,供您尽情享受其酸甜滋味。采用最优质的茶叶和新鲜柠檬汁制成,Pokka 冰柠檬茶味道均衡,清新怡人,让您欲罢不能。
主要特点:
高品质原料:Pokka 冰柠檬茶采用优质茶叶和真正的柠檬汁精心制作,确保真实美味。

清新酸甜:每一口都能感受到令人振奋的柠檬风味,是驱散炎炎夏日燥热、解渴的绝佳选择。

方便尺寸:1.5升瓶装适合与家人和朋友分享,或者随时放在冰箱里享用清爽美味。

纯天然无防腐剂:品尝真正的茶和柠檬的纯净滋味,无添加防腐剂或人工调味。

多用途饮品:无论是野餐、聚会还是在家简单用餐,Pokka 冰柠檬茶都能为您增色添彩,伴随美好时刻。
让Pokka 冰柠檬茶的自然好味道和令人神往的柠檬风味提升您的饮品体验。立即在辣妈超市购买您的1.5升瓶装,每一口都能带给您清新怡人的滋味。
Currently, we offer shipping services within the United Kingdom, and we also offer local delivery within 10 miles.
Within 2.5 mile
Less Than £15 - £1.99 delivery fee
Over £15, Free Delivery.
2.5 Mile to 5 Mile
Less Than £30 - £3.99 Delivery Fee
Over £30, Free Delivery

5 Mile to 10 Mile
Less Than £100 - £9.99 Delivery Fee
Over £100, Free Delivery