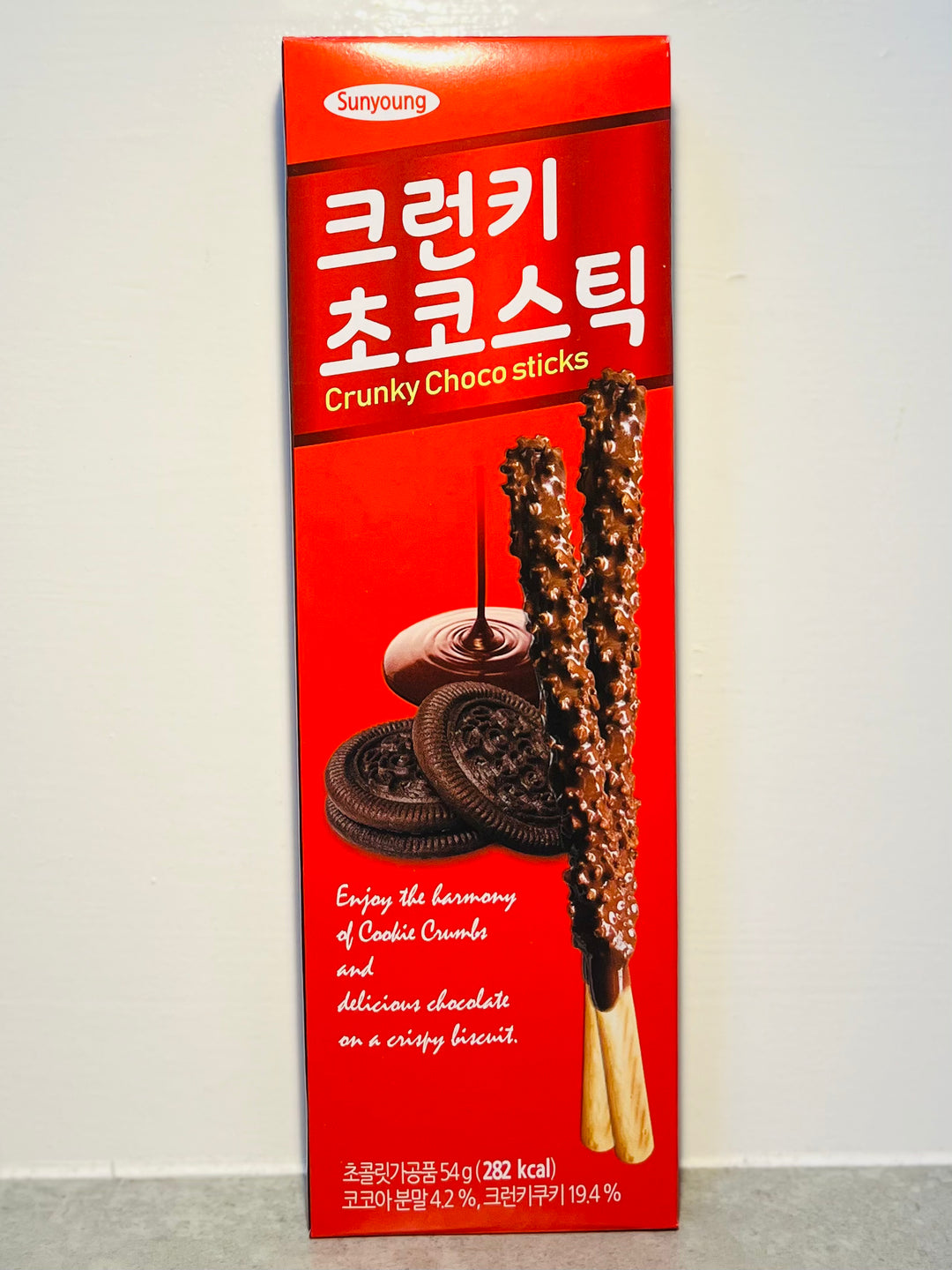 Sunyoung Crunky Choco Stick 54g
Regular price
£1.84
/
Tax included.
Shipping
calculated at checkout.
---
Local Delivery Within 1 Hour, Up to 5 mile
In stock, ready to ship

Inventory on the way
Sunyoung Crunky Choco Stick 54g
Description: Sunyoung Crunky Choco Stick is a delightful snack known for its crispy texture and rich chocolate flavor. Manufactured by the Sunyoung brand, it is a trusted name in the snack industry. This snack combines the pleasure of chocolate with a satisfying crunch, providing a delightful experience for your taste buds.
Each stick contains crispy rice and a smooth layer of chocolate, delivering a delightful sensation with every bite. Its high-quality ingredients and unique craftsmanship make it a favorite among snack enthusiasts.
The 54g pack of Crunky Choco Sticks is perfect for enjoying anytime and anywhere, whether you're out and about or relaxing at home. The convenient stick packaging allows you to savor this delicious snack on the go.
Key Features:
Crispy Rice and Chocolate: A perfect combination of crispy texture and smooth chocolate.
Delightful Indulgence: Enjoyable texture for a delightful snacking experience.
Premium Quality: Made with high-quality ingredients for a perfect balance of taste and texture.
Portable Snack: Conveniently packaged for enjoying this delightful snack anytime, anywhere.
You can purchase Sunyoung Crunky Choco Stick at La Mart Asian Supermarket and relish in the unique chocolate goodness with every bite.
Sunyoung Crunky 巧克力棒 54克
描述: Sunyoung Crunky 巧克力棒是一款美味的零食,以其脆脆的口感和浓郁的巧克力味而闻名。由Sunyoung品牌制造,是零食行业中备受信赖的品牌之一。这款零食融合了令人愉悦的巧克力和香脆的口感,让您感受到美味的同时也带来愉快的享受。
每根棒子都包含了香脆的脆米和光滑的巧克力层,让您在每一口都感受到绝妙的口感。优质的成分和独特的制作工艺使其成为零食爱好者的最爱。
这包含54克 Crunky 巧克力棒的包装非常适合随时随地享用,无论是在户外活动还是在家中,都是一款令人愉悦的零食选择。方便的棒状包装使您可以随时享受这美味的零食。
关键特点:
脆米与巧克力:脆脆的口感与光滑的巧克力的完美结合。
美味享受:令人愉悦的口感带来愉快的享受。
优质品质:采用高品质成分,确保美味和口感的完美平衡。
便携零食:方便携带,随时享受这美味的零食。
您可以在辣妈超市购买 Sunyoung Crunky 巧克力棒,品尝这款美味零食,每一口都会让您陶醉在其独特的巧克力风味中。
Currently, we offer shipping services within the United Kingdom, and we also offer local delivery within 10 miles.
Within 2.5 mile
Less Than £15 - £1.99 delivery fee
Over £15, Free Delivery.
2.5 Mile to 5 Mile
Less Than £30 - £3.99 Delivery Fee
Over £30, Free Delivery

5 Mile to 10 Mile
Less Than £100 - £9.99 Delivery Fee
Over £100, Free Delivery