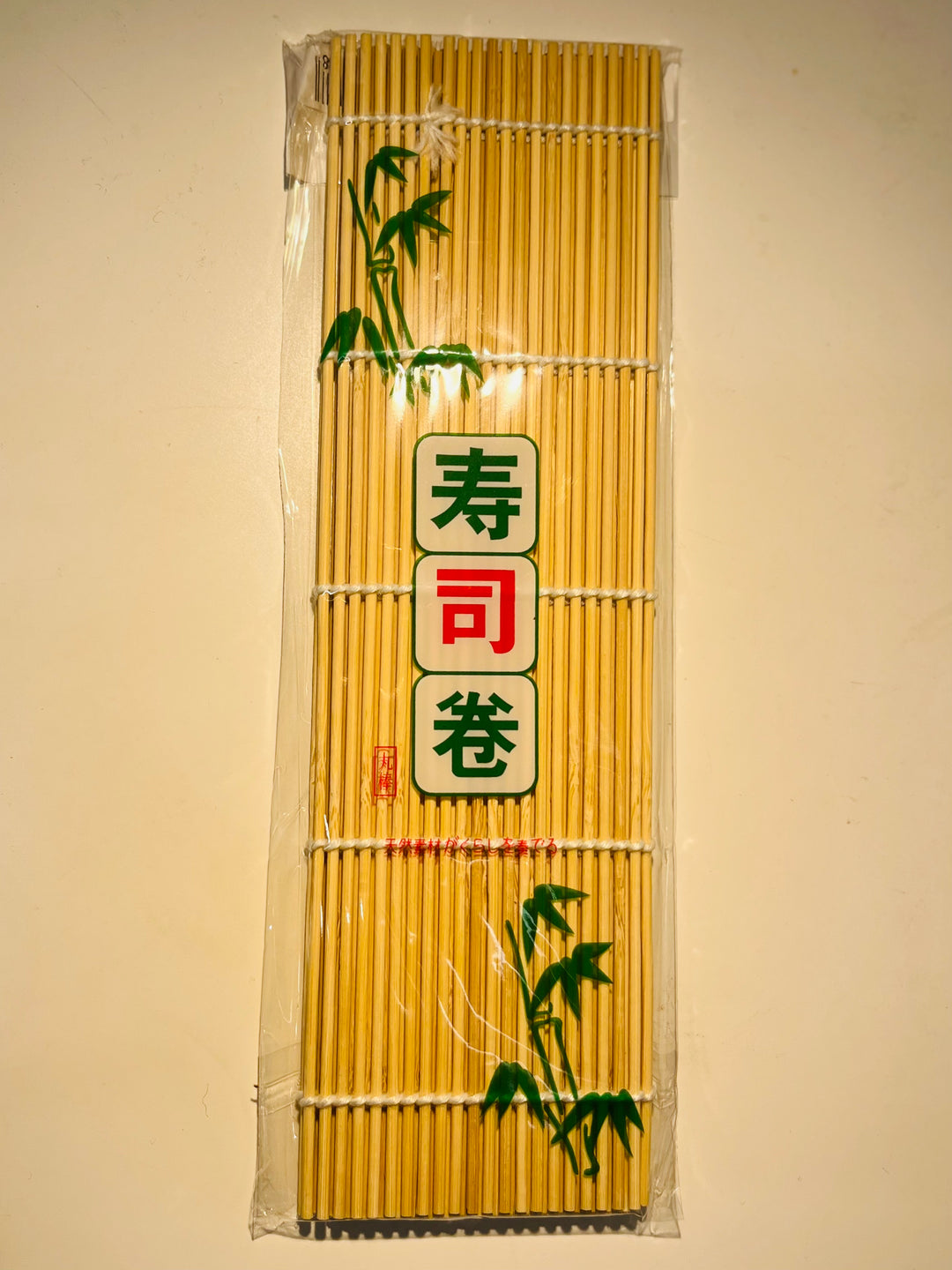 寿司席 Sushi Mat
Regular price
£0.99
/
Tax included.
Shipping
calculated at checkout.
---
Local Delivery Within 1 Hour, Up to 5 mile
In stock, ready to ship

Inventory on the way
寿司席 - Sushi Mat
Description: The 寿司席 (Sushi Mat) is an essential tool used in the traditional Japanese art of sushi-making. It is a rectangular mat made from bamboo, specifically designed to assist in rolling sushi rolls, also known as maki or makizushi. The sushi mat is an indispensable item for sushi chefs and home cooks who want to create authentic and perfectly rolled sushi at home.
Key Features:
Bamboo Construction: The sushi mat is crafted from high-quality bamboo, which provides flexibility and durability for smooth sushi rolling.
Easy Sushi Rolling: The mat's textured surface and pliable nature allow for easy and precise rolling of sushi rice and various fillings.
Hygienic and Easy to Clean: Bamboo is a natural material that is resistant to moisture and easy to clean, ensuring a hygienic surface for making sushi.
Reusable: The sushi mat is reusable and can be easily cleaned with warm water and mild soap after each use.
Usage Tips:
Place a sheet of plastic wrap or a plastic bag over the sushi mat to prevent the rice from sticking to the bamboo.
Lay a sheet of nori (seaweed) on the plastic-covered mat with the shiny side facing down.
Spread a layer of seasoned sushi rice over the nori, leaving a small space at the top edge.
Add your preferred sushi fillings along the center of the rice.
Carefully lift the sushi mat and fold the nori and rice over the fillings to start the rolling process.
Continue rolling and pressing the sushi mat gently to shape the roll.
Once the roll is complete, remove the plastic wrap or bag, and slice the sushi roll into bite-sized pieces.
Brand Information: Our 寿司席 (Sushi Mat) is sourced from reputable manufacturers known for producing high-quality sushi-making tools. It is designed to assist sushi enthusiasts and professionals in creating beautiful and delicious sushi creations.
Care Instructions: After use, rinse the sushi mat with warm water and mild soap, then air dry thoroughly before storing. Avoid soaking the mat to maintain its quality and longevity.
Embark on a Sushi Journey: With our 寿司席 (Sushi Mat), embark on a delightful sushi-making journey, and enjoy crafting your favorite sushi rolls with ease and precision.
Note: Handle the bamboo sushi mat with care to avoid splinters or damage. Ensure proper cleaning and storage for hygienic use.
寿司席
描述: 寿司席是用于传统日本寿司制作的必备工具。它是一种由竹子制成的长方形垫子,专门用于卷寿司卷,也称为"卷寿司"或"卷寿司"。寿司席是寿司厨师和家庭烹饪者制作正宗完美寿司的不可或缺的物品。
主要特点:
竹制品:寿司席采用优质竹材制成,提供灵活性和耐用性,有助于顺利卷寿司。
易于制作寿司:寿司席的表面纹理和柔软性使得将寿司米饭和各种馅料卷制变得容易且精确。
卫生易清洁:竹材是一种天然材料,耐湿易于清洁,保证制作寿司时卫生安全。
可重复使用:寿司席可重复使用,每次使用后可用温水和温和肥皂轻松清洁。
使用技巧:
在寿司席上铺一层保鲜膜或塑料袋,防止寿司米饭粘在竹子上。
将一张紫菜(海苔)的闪光面朝下放在覆盖了塑料的寿司席上。
在紫菜上铺一层调味过的寿司米饭,留出上边缘一小段空白处。
在寿司米饭的中心摆放你喜欢的寿司馅料。
轻轻将寿司席抬起,将紫菜和寿司米饭折叠到馅料上,开始卷制寿司。
继续卷制并轻轻按压寿司席,将寿司卷形成。
完成寿司卷后,取下保鲜膜或塑料袋,将寿司卷切成小块。
品牌信息: 我们的寿司席来自知名制造商,以生产高质量的寿司制作工具而闻名。它专为寿司爱好者和专业人士设计,助您打造美丽可口的寿司作品。
使用注意事项: 使用后,请用温水和温和肥皂冲洗寿司席,然后彻底晾干后存放。为保持卫生使用,请小心处理寿司席,避免发生裂纹或损坏。
展开寿司之旅: 凭借我们的寿司席,展开一个令人愉悦的寿司制作之旅,享受轻松而精准地制作您喜爱的寿司卷的乐趣。
注意: 请谨慎处理竹制寿司席,以避免割伤或损坏。请确保正确清洁和存放,以保持卫生安全使用。
Currently, we offer shipping services within the United Kingdom, and we also offer local delivery within 10 miles.
Within 2.5 mile
Less Than £15 - £1.99 delivery fee
Over £15, Free Delivery.
2.5 Mile to 5 Mile
Less Than £30 - £3.99 Delivery Fee
Over £30, Free Delivery

5 Mile to 10 Mile
Less Than £100 - £9.99 Delivery Fee
Over £100, Free Delivery