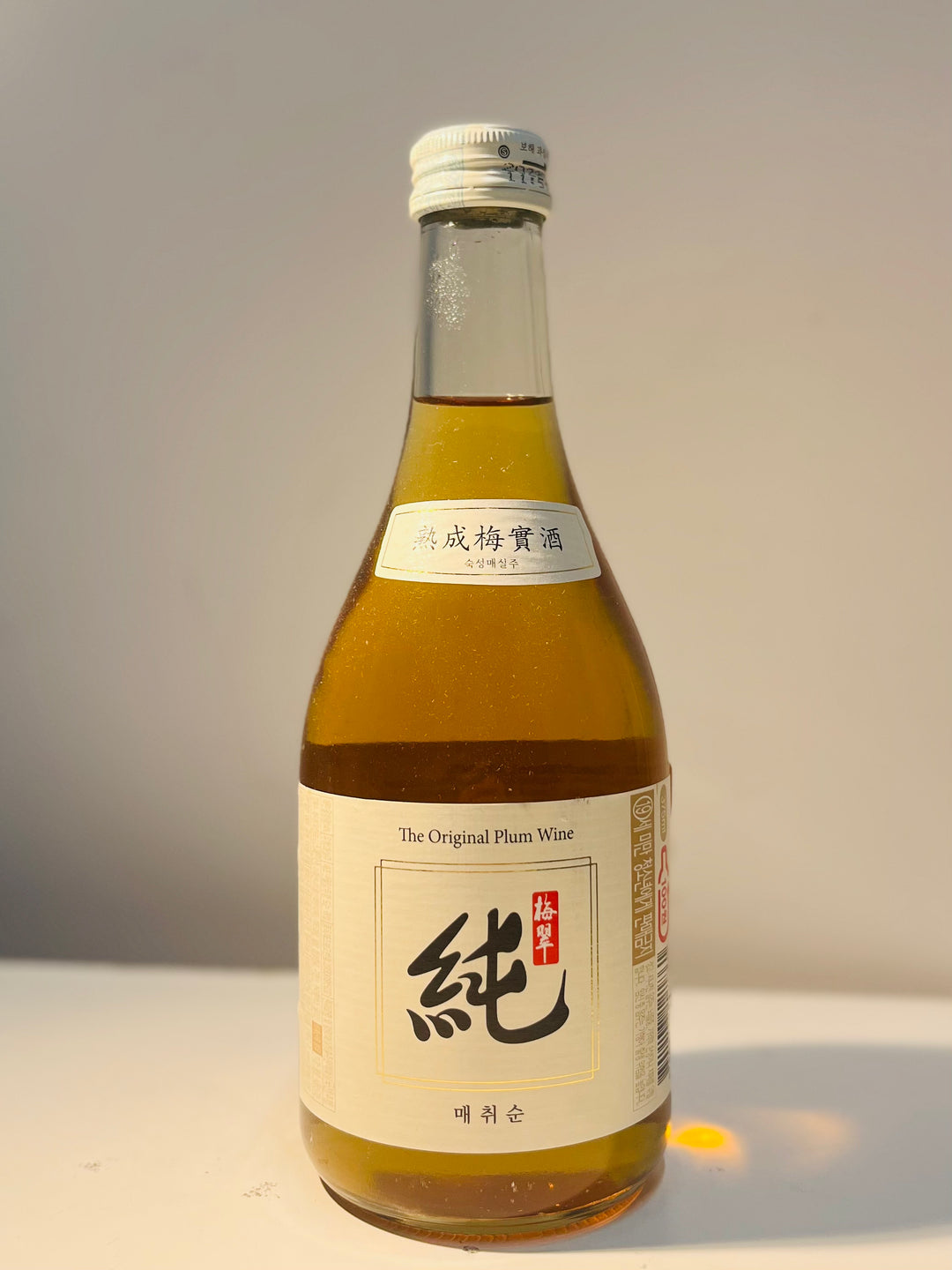 梅翠熟成梅实酒 The Original Plum Wine 375ml 14% Vol
Regular price
£12.75
/
Tax included.
Shipping
calculated at checkout.
---
Local Delivery Within 1 Hour, Up to 5 mile
Low stock - 2 items left

Inventory on the way
Meicui Original Plum Wine 375ml (14% Vol)
Experience the Essence of Traditional Craftsmanship
Indulge in the rich heritage of Meicui Original Plum Wine, a delightful creation that embodies centuries of refined craftsmanship. With each sip, you'll be transported to a world of unparalleled taste and elegance.
Key Features:
Authentic Plum Flavor: Meicui Original Plum Wine captures the essence of succulent plums in every drop, delivering a balanced and authentic flavor profile that lingers on the palate.

Time-Honored Recipe: Crafted using a time-honored recipe, this plum wine is the result of meticulous attention to detail and a commitment to preserving the authenticity of traditional methods.

Smooth and Balanced: The 14% alcohol content harmoniously blends with the natural sweetness of plums, offering a smooth and balanced drinking experience that's perfect for both casual and special occasions.

Versatile Enjoyment: Meicui Original Plum Wine is a versatile libation that can be enjoyed on its own as an aperitif, paired with fine cuisine, or even incorporated into creative cocktails and mixed drinks.

Elegantly Presented: Encased in a 375ml bottle, Meicui Original Plum Wine is beautifully packaged, making it an excellent choice for gifting or displaying on your home bar.
Unveil a World of Flavor
Meicui Original Plum Wine is a testament to the dedication of the craftsmen who meticulously produce each batch. Whether you're celebrating a momentous occasion or seeking a touch of indulgence, savor the captivating aroma and taste of Meicui Original Plum Wine. Elevate your palate with the distinctive allure of this exquisite beverage.
Note: Alcoholic beverages are for adults of legal drinking age. Drink responsibly.
Please drink responsibly and in moderation.
梅翠熟成梅实酒 375毫升(14%酒精度)
领略传统工艺的精髓
沉浸在梅翠熟成梅实酒的浓郁文化遗产中,这款美味的佳酿体现了数百年来精致工艺的完美结晶。每一口都能带您穿越时光,感受无与伦比的味道与优雅。
主要特点:
正宗梅子风味: 梅翠熟成梅实酒在每一滴中捕捉到了多汁梅子的本真风味,呈现出平衡而正宗的口感,让人回味无穷。

历史悠久的配方: 使用历史悠久的配方精心酿制而成,这款梅实酒凝聚了对细节的精心关照,坚持保留传统工艺的真实性。

柔和而平衡: 14%的酒精含量与梅子的天然甜味相得益彰,为您呈现出柔和而平衡的饮酒体验,适合休闲或特殊场合。

多样化享受: 梅翠熟成梅实酒是一款多功能的美酒,可作为开胃酒单独品尝,与美食搭配,甚至可以用于创意鸡尾酒和混合饮品。

典雅的呈现: 梅翠熟成梅实酒采用375毫升瓶装,外观精美,非常适合送礼或陈列在家中的酒吧区。
揭示出多元的味觉世界
梅翠熟成梅实酒见证了每一批酒液背后匠人的专注与付出。无论您是在庆祝重要时刻还是寻找一丝享受,尽情品味梅翠熟成梅实酒的独特香气和味道。用这款精致佳酿,提升您的味蕾体验。
注:酒类饮品仅适合成年人饮用,请理性饮酒。
请合理饮酒,谨慎享用。
Currently, we offer shipping services within the United Kingdom, and we also offer local delivery within 10 miles.
Within 2.5 mile
Less Than £15 - £1.99 delivery fee
Over £15, Free Delivery.
2.5 Mile to 5 Mile
Less Than £30 - £3.99 Delivery Fee
Over £30, Free Delivery

5 Mile to 10 Mile
Less Than £100 - £9.99 Delivery Fee
Over £100, Free Delivery