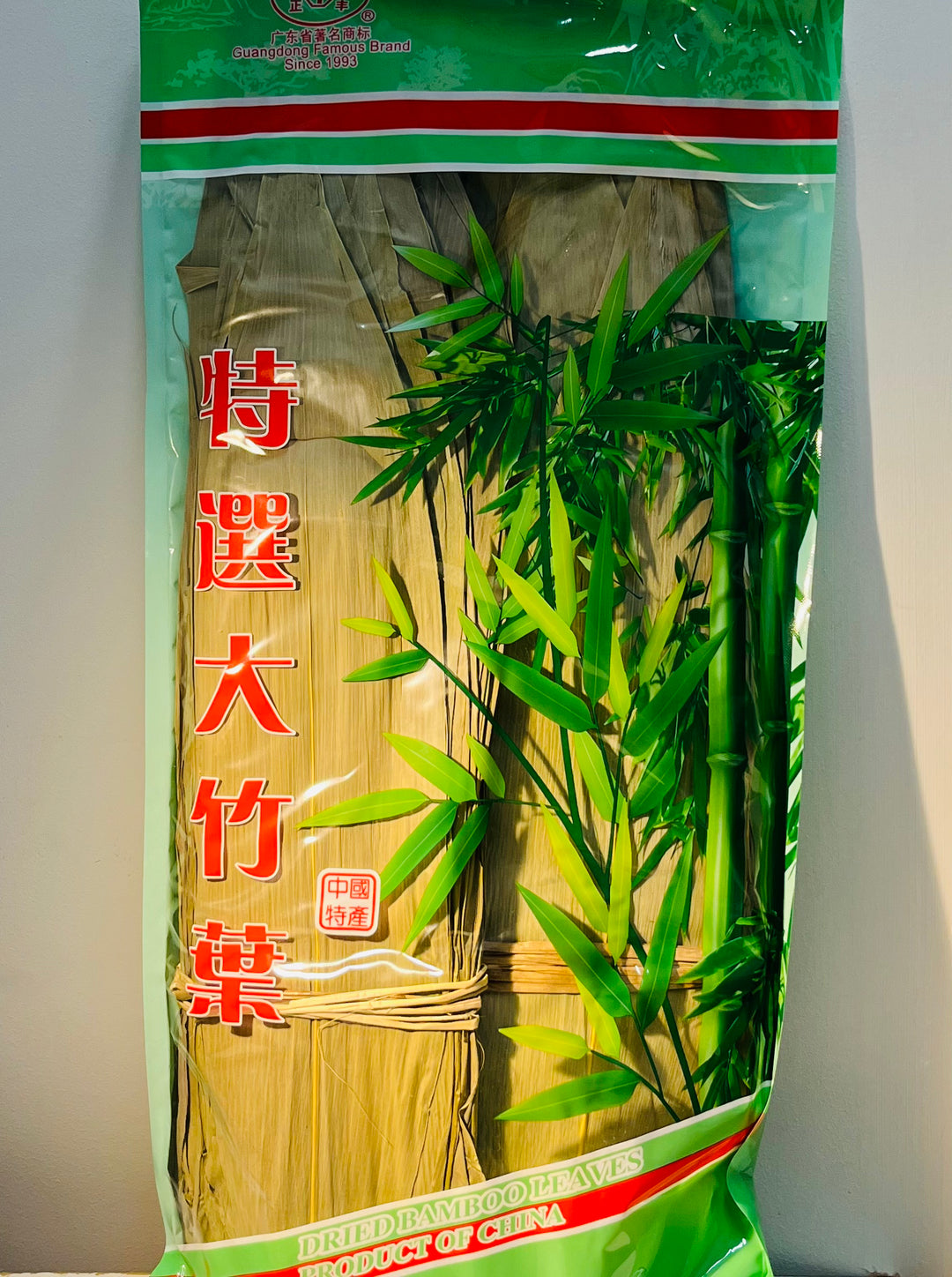 正丰竹叶 9cm 400g ZF Dried Bamboo Leaves for Zongzi
Regular price
£6.49
/
Tax included.
Shipping
calculated at checkout.
---
Local Delivery Within 1 Hour, Up to 5 mile
In stock, ready to ship

Inventory on the way
ZF Dried Bamboo Leaves (9cm, 400g)
Discover the Essence of ZF Dried Bamboo Leaves
ZF Dried Bamboo Leaves are a high-quality product that brings an authentic touch to your culinary creations. These bamboo leaves are traditionally used for making zongzi, a popular and delicious Chinese dish often enjoyed during the Dragon Boat Festival. With ZF Dried Bamboo Leaves, you can recreate this cherished delicacy and experience the rich cultural heritage it represents.
Key Features:
Premium Selection: ZF takes pride in selecting top-quality bamboo leaves, ensuring you receive leaves that are suitable for making zongzi with exceptional results.

Traditional Flavor: The unique aroma and flavor of bamboo leaves infuse your zongzi with an authentic taste, enhancing the overall experience.

Versatile Use: ZF Dried Bamboo Leaves are specifically chosen for making zongzi, but they can also be used for other culinary applications, such as wrapping foods for steaming or grilling.

Cultural Significance: Bamboo leaves hold cultural significance and are an integral part of the Dragon Boat Festival celebration, making your zongzi preparation a reflection of cultural traditions.
Cooking Tips:
Before use, soak the ZF Dried Bamboo Leaves in warm water until they become soft and pliable.
When wrapping zongzi, ensure that the filling is well-contained and the leaves are securely folded to prevent any leakage during cooking.
Storage Guidelines:
Store ZF Dried Bamboo Leaves in a cool, dry place, away from direct sunlight, to maintain their freshness and quality. Once opened, reseal the package to prevent moisture from affecting the leaves.
Savor the Flavors of Tradition:
ZF Dried Bamboo Leaves allow you to immerse yourself in the art of zongzi-making, a cherished culinary tradition that brings families and communities together. By incorporating these bamboo leaves into your cooking, you're not only creating delectable dishes but also paying homage to the cultural heritage associated with this beloved delicacy.
ZF 干竹叶(9cm,400克)
发现 ZF 干竹叶的精髓
ZF 干竹叶是一款高质量的产品,为您的烹饪创作带来了地道的风味。这些竹叶传统上用于制作粽子,这是一道在端午节期间经常享用的美味中式菜肴。借助 ZF 干竹叶,您可以重新制作这道受人喜爱的佳肴,并体验它所代表的丰富文化遗产。
关键特点:
优质选材: ZF 自豪地选择了优质的竹叶,确保您获得适合制作粽子的叶子,以获得出色的制作效果。

传统风味: 竹叶独特的香气和风味赋予您的粽子正宗的口感,提升整体体验。

多用途: ZF 干竹叶专门用于制作粽子,但它们还可以用于其他烹饪应用,如包裹食物进行蒸煮或烤制。

文化意义: 竹叶具有文化意义,是端午节庆祝活动的重要组成部分,使您的粽子制作成为文化传统的体现。
烹饪技巧:
使用前,将 ZF 干竹叶浸泡在温水中,直到它们变软和有弹性。
包裹粽子时,请确保馅料被完全包裹,并将叶子紧密地折叠起来,以防止烹饪过程中的渗漏。
存储指南:
将 ZF 干竹叶存放在阴凉、干燥的地方,远离阳光直射,以保持其新鲜度和质量。打开后,请重新密封包装,以防止湿气影响叶子。
品味传统风味:
ZF 干竹叶让您沉浸在制作粽子的艺术中,这是一项受人喜爱的烹饪传统,将家庭和社区凝聚在一起。通过将这些竹叶融入您的烹饪中,您不仅创造出美味的菜肴,还向与这道心爱的佳肴相关的文化遗产致敬。
Currently, we offer shipping services within the United Kingdom, and we also offer local delivery within 10 miles.
Within 2.5 mile
Less Than £15 - £1.99 delivery fee
Over £15, Free Delivery.
2.5 Mile to 5 Mile
Less Than £30 - £3.99 Delivery Fee
Over £30, Free Delivery

5 Mile to 10 Mile
Less Than £100 - £9.99 Delivery Fee
Over £100, Free Delivery