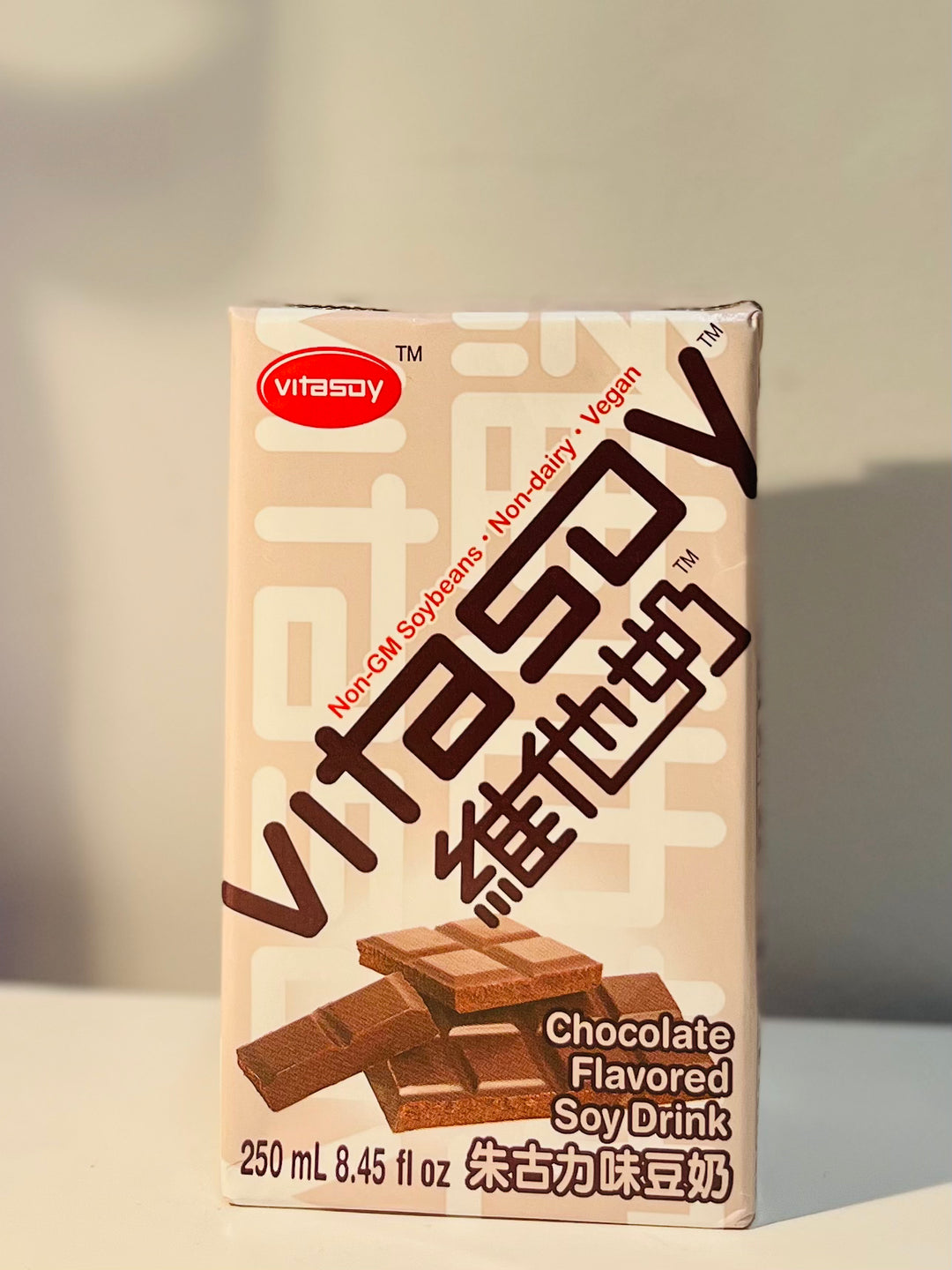 维他巧克力豆奶250ml Vita Chocolate Soy Drinks
Regular price
£1.35
/
Tax included.
Shipping
calculated at checkout.
---
Local Delivery Within 1 Hour, Up to 5 mile
Low stock - 5 items left

Inventory on the way
Vitasoy Chocolate Soy Drink 250ml
Product Description:
Vitasoy Chocolate Soy Drink 250ml is a delightful and nutritious beverage that combines the goodness of soy with the rich flavor of chocolate. Made from premium quality soybeans and real cocoa, it offers a satisfying taste and essential nutrients in one convenient package.
Key Features:
Soy Goodness: Vitasoy Chocolate Soy Drink is crafted from high-quality soybeans, providing plant-based protein and a range of essential nutrients.

Real Cocoa: The addition of real cocoa powder gives this drink its irresistible chocolate flavor, making it a treat for your taste buds.

Nutrient-Rich: This drink offers a combination of protein, carbohydrates, and healthy fats, making it a well-rounded choice for a quick snack or on-the-go refreshment.

Energy Boost: The natural sugars and carbohydrates in Vitasoy Chocolate Soy Drink can provide a quick energy boost, perfect for those busy moments.

Versatile Use: Enjoy it straight from the container or incorporate it into your favorite recipes and smoothies for added flavor and nutrition.

Convenient Size: Packaged in a 250ml container, it's easy to take with you wherever you go, ensuring you always have a delicious and nutritious option on hand.

Suitable for All Ages: Vitasoy Chocolate Soy Drink is a great choice for both kids and adults, offering a tasty way to incorporate soy and chocolate into your diet.

No Artificial Flavors: Vitasoy is committed to using real ingredients and avoiding artificial additives, ensuring an authentic chocolate soy experience.
Vitasoy Chocolate Soy Drink 250ml is the perfect blend of soy and chocolate flavors that can be enjoyed as a satisfying snack or refreshing beverage. Please note that product availability may vary by region. Check our store or online catalog for the latest information.
维他巧克力豆奶 250毫升
产品描述:
维他巧克力豆奶 250毫升是一款美味和有营养的饮品,将大豆的好处与浓郁的巧克力风味相结合。由优质大豆和真正的可可制成,为您提供一种令人满意的口味和必要的营养,让您一次获得满足感。
主要特点:
大豆好处: 维他巧克力豆奶采用优质大豆制成,提供植物蛋白质和一系列必要的营养。

真正的可可: 添加真正的可可粉赋予这款饮品诱人的巧克力风味,成为您味蕾的享受。

富含营养: 该饮品提供蛋白质、碳水化合物和健康脂肪的组合,使其成为快速小吃或随时刷新的理想选择。

提供能量: 维他巧克力豆奶中的天然糖分和碳水化合物可以提供快速的能量,非常适合繁忙的时刻。

多用途使用: 可以直接从容器中享用,也可以将其融入您喜爱的食谱和冰沙中,增添风味和营养。

方便携带尺寸: 包装在250毫升的容器中,方便随身携带,确保您随时随地都有美味和有营养的选择。

适合各个年龄段: 维他巧克力豆奶既适合儿童又适合成年人,为您提供将大豆和巧克力融入饮食的美味方式。

无人工香精: 维他致力于使用真正的成分,避免使用人工添加剂,确保真实的巧克力豆奶体验。
维他巧克力豆奶 250毫升是大豆和巧克力风味的完美融合,既可以作为令人满足的小吃,也可以作为清爽的饮料享用。请注意,产品的可用性可能因地区而异。请查看我们的商店或在线目录,获取最新信息。
Currently, we offer shipping services within the United Kingdom, and we also offer local delivery within 10 miles.
Within 2.5 mile
Less Than £15 - £1.99 delivery fee
Over £15, Free Delivery.
2.5 Mile to 5 Mile
Less Than £30 - £3.99 Delivery Fee
Over £30, Free Delivery

5 Mile to 10 Mile
Less Than £100 - £9.99 Delivery Fee
Over £100, Free Delivery