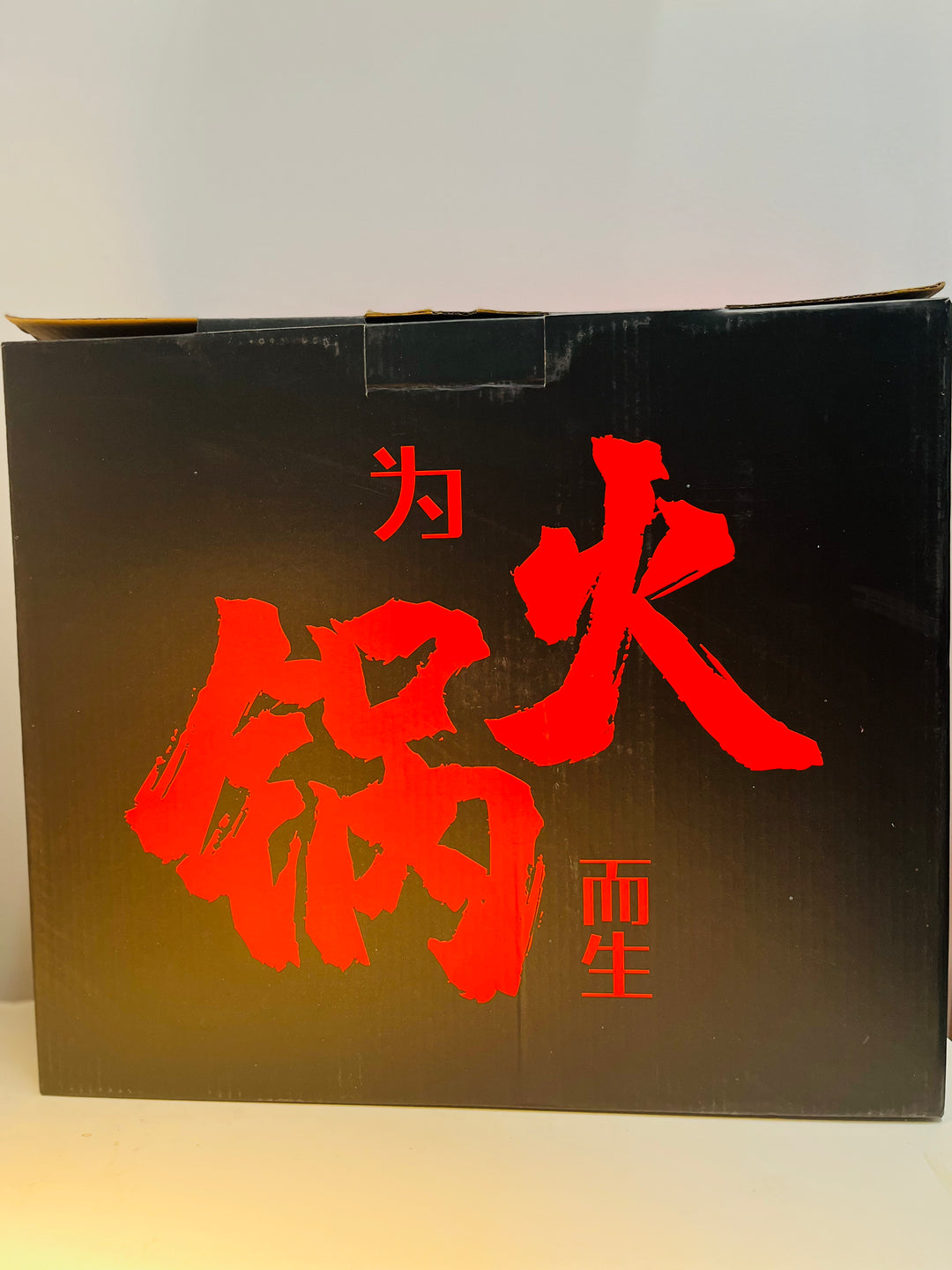 胜佳鸳鸯火锅32cm SJ Stainless Steel
Regular price
£48.88
/
Tax included.
Shipping
calculated at checkout.
---
Local Delivery Within 1 Hour, Up to 5 mile
In stock, ready to ship

Inventory on the way
Sheng Jia Yuanyang Hot Pot 32cm
Product Description:
Indulge in a delightful hot pot feast with the Sheng Jia Yuanyang Hot Pot. Whether it's a family gathering, a friends' get-together, or a special occasion, this 32cm stainless steel hot pot offers a perfect cooking and dining experience.
Key Features:
Dual-mouth Design: This hot pot features a unique dual-mouth structure, allowing you to enjoy two different flavors of hot pot simultaneously, catering to various taste preferences.
High-Quality Stainless Steel: Crafted from high-quality stainless steel, it's durable and easy to clean, ensuring the pot retains its aesthetics and functionality over time.
Versatile Usage: Suitable for home dining, gatherings, celebrations, and more, adding delectable flavors and joy to your dining table.
Usage Tips:
Prepare Ingredients: Gather your preferred hot pot ingredients, such as meats, vegetables, seafood, and more.
Heat the Pot: Place the hot pot on the stove, fill the bottom with water or broth, and wait for it to boil.
Enjoy the Feast: Add your prepared ingredients to the hot pot, season as per your taste, stir the ingredients, and wait until they're cooked to perfection. Then, savor the delicious hot pot.
The Sheng Jia Yuanyang Hot Pot 32cm not only brings you a delectable hot pot experience but also adds a unique touch to your dining occasions. Whether it's warming up in winter or enjoying a feast in summer, this hot pot ensures you and your loved ones relish the joy of delightful cuisine together.
胜佳鸳鸯火锅 32厘米
产品描述:
享受美味火锅盛宴,选择这款胜佳鸳鸯火锅。不论是家庭聚会、朋友聚会还是特殊场合,这款32厘米的不锈钢火锅能为您提供完美的烹饪和用餐体验。
主要特点:
双口设计: 这款火锅设计独特,拥有双口结构,使您可以同时享受两种不同口味的火锅,满足不同人的口味喜好。
高品质不锈钢: 采用高品质不锈钢制作,耐用而易于清洁,能够长时间保持锅具的美观和功能。
适用场合: 适用于家庭用餐、聚会、庆典等场合,为您的餐桌增添美味和乐趣。
使用建议:
准备食材: 准备您喜欢的火锅食材,如肉类、蔬菜、海鲜等。
加热火锅: 将火锅放在炉子上,加热火锅底部的清水或高汤,等待水烧开。
享受美食: 将准备好的食材放入火锅中,根据个人口味添加调味料,翻炒食材,等待食材熟透后即可享受美味火锅。
胜佳鸳鸯火锅 32厘米不仅为您带来美味的火锅体验,还能为您的用餐场合增添独特的风采。无论是冬天取暖还是夏天聚餐,这款火锅都能让您和您的亲朋好友共同享受美食的乐趣。
Currently, we offer shipping services within the United Kingdom, and we also offer local delivery within 10 miles.
Within 2.5 mile
Less Than £15 - £1.99 delivery fee
Over £15, Free Delivery.
2.5 Mile to 5 Mile
Less Than £30 - £3.99 Delivery Fee
Over £30, Free Delivery

5 Mile to 10 Mile
Less Than £100 - £9.99 Delivery Fee
Over £100, Free Delivery