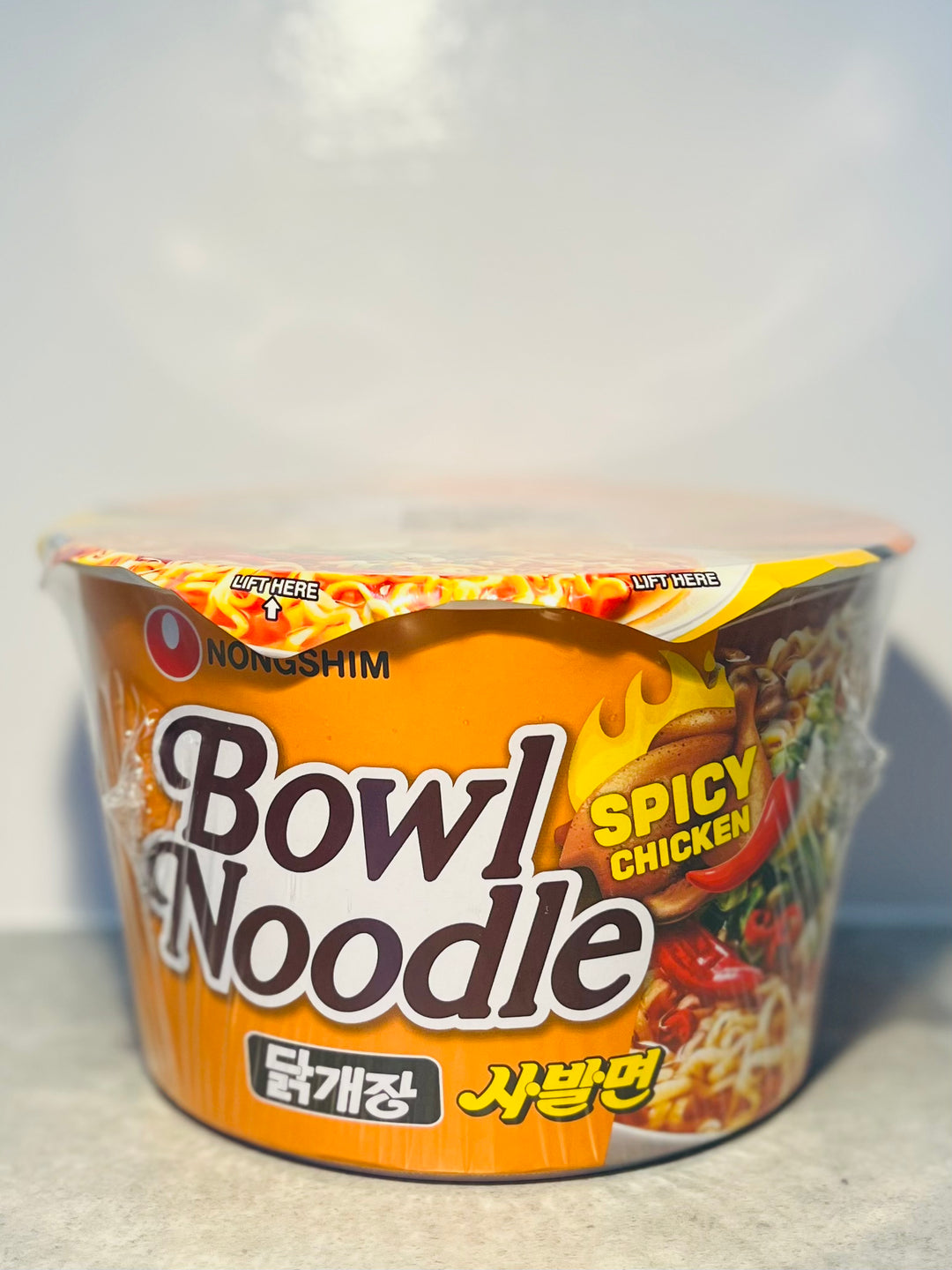 Nongshim Spicy Chicken Bowl Noodle 农心辣味鸡桶面100g
Regular price
£2.05
/
Tax included.
Shipping
calculated at checkout.
---
Local Delivery Within 1 Hour, Up to 5 mile
In stock, ready to ship

Inventory on the way
Nongshim Spicy Chicken Bowl Noodle 农心辣味鸡桶面100克 - A Fiery and Flavorful Delight
Description: Indulge in the fiery and flavorful Nongshim Spicy Chicken Bowl Noodle, now available in a convenient 100g bowl. These instant noodles bring the perfect balance of spiciness and savory chicken flavor, creating a delightful and satisfying meal in no time.
Fiery Spicy Chicken Flavor: Nongshim Spicy Chicken Bowl Noodle delivers a bold and authentic spicy chicken taste that will excite your taste buds.
Quick and Convenient: With the easy-to-prepare bowl, you can enjoy a delicious and satisfying meal in just a few minutes.
Rich and Savory Broth: The noodles are immersed in a rich and savory chicken broth, infusing each bite with delightful flavors.
Premium Quality Ingredients: Nongshim uses high-quality ingredients to ensure an authentic and delectable taste experience.
Versatile Option: Nongshim Spicy Chicken Bowl Noodle is a versatile choice, perfect for a quick lunch or anytime you crave a spicy and savory treat.
Satisfying Portion: The 100g bowl is perfect for a satisfying meal on the go or when you need a quick and delicious snack.
Authentic Korean Taste: Savor the authentic Korean flavors and the delightful spiciness in each spoonful.
Nongshim Spicy Chicken Bowl Noodle 农心辣味鸡桶面100克 offers a fiery and flavorful delight. Grab your bowl of Nongshim Spicy Chicken Bowl Noodle now, available at La Mart Asian Supermarket, and immerse yourself in the bold and spicy chicken goodness for an unforgettable meal experience.
农心辣味鸡桶面100克 - 火辣美味的享受
描述: 品尝农心辣味鸡桶面,现已推出方便的100克包装。这款即时面带来完美的辣味与鲜美的鸡肉风味,为您创造一份火辣又令人满足的美味快餐。
火辣鸡肉风味:农心辣味鸡桶面带来大胆正宗的辣味鸡肉口感,将令您的味蕾兴奋不已。
快捷方便:使用便利的桶装即时面,只需几分钟,您便能享受美味又令人满足的快餐。
香浓高汤:面条浸泡在香浓的鸡肉高汤中,每一口都散发着美味的风味。
优质食材:农心采用优质食材确保原汁原味的美味体验。
多用途选择:农心辣味鸡桶面非常适合快速午餐或任何时候您想品尝辣味鸡肉的美食。
令人满足的一餐:100克的份量刚好,为您提供令人满足的一餐或快速美味的小吃。
正宗韩式风味:品尝每一勺正宗韩式风味,沉浸在火辣辛辣的美味之中。
农心辣味鸡桶面100克为您带来火辣美味的享受。立即在辣妈超市购买农心辣味鸡桶面,尽情沉浸在大胆辣味与鸡肉风味的美妙组合中,品尝难忘的美味体验。
Currently, we offer shipping services within the United Kingdom, and we also offer local delivery within 10 miles.
Within 2.5 mile
Less Than £15 - £1.99 delivery fee
Over £15, Free Delivery.
2.5 Mile to 5 Mile
Less Than £30 - £3.99 Delivery Fee
Over £30, Free Delivery

5 Mile to 10 Mile
Less Than £100 - £9.99 Delivery Fee
Over £100, Free Delivery