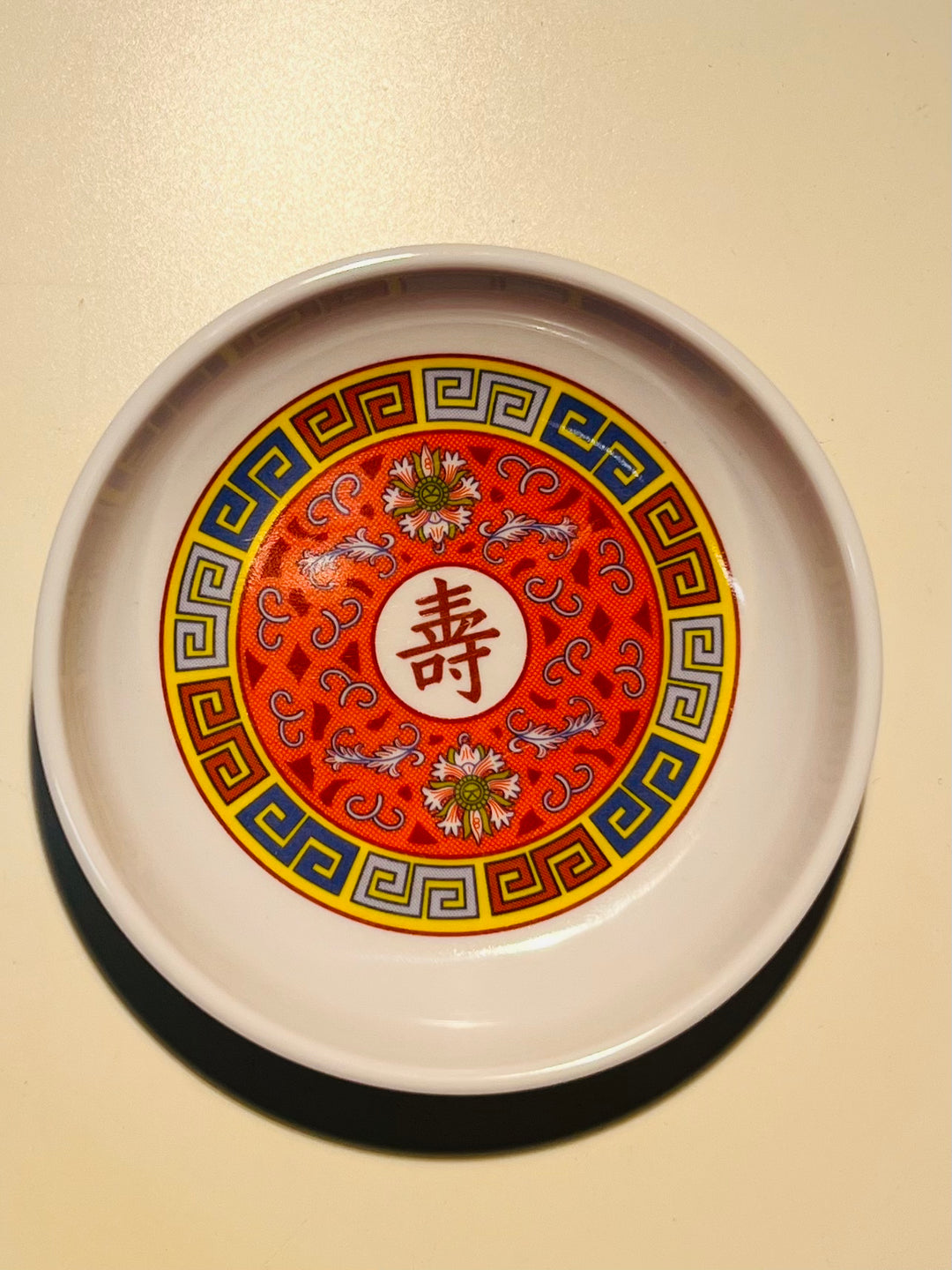 万寿无疆酱油碟18mm Longevity Sauce Dish
Regular price
£0.79
/
Tax included.
Shipping
calculated at checkout.
---
Local Delivery Within 1 Hour, Up to 5 mile
Low stock - 1 item left

Inventory on the way
Longevity Sauce Dish - 18mm Diameter
Description: The Longevity Sauce Dish is an exquisite tableware designed for serving soy sauce or condiments. With a diameter of 18mm, the dish is of the perfect size to place on the dining table for guests' convenience.
Key Features:
High-Quality Material: The Longevity Sauce Dish is made from high-quality materials, ensuring its durability and resistance to damage.
Exquisite Design: The dish features a simple yet elegant design with traditional cultural elements, adding aesthetic appeal to your dining experience.
Versatility: Besides soy sauce, the dish can also be used for serving dipping sauces, vinegar, garlic paste, and other condiments, providing versatility in pairing with various dishes.
Easy to Clean: The smooth surface of the dish makes it easy to clean and maintain its pristine condition.
The Longevity Sauce Dish is an essential addition to your dining experience, enhancing the presentation and enjoyment of your meals. Whether you're hosting a family gathering or entertaining guests, this sauce dish adds a touch of elegance and sophistication to your dining setting.
You can find the Longevity Sauce Dish at La Mart Asian Supermarket, where it will elevate your dining experience with its exquisite design and practical functionality.
万寿无疆酱油碟 - 直径18毫米
描述: 万寿无疆酱油碟是一款精美的餐具,专为盛放酱油或调味料而设计。碟子直径为18毫米,大小适中,适合放置在餐桌上供客人使用。
主要特点:
高品质材料:万寿无疆酱油碟采用高品质材料制成,坚固耐用,不易损坏。
精美设计:碟子的设计简约优雅,具有传统文化元素,增添了用餐时的美感。
多功能:不仅适合盛放酱油,还可用于蘸料、醋、蒜蓉等调味料,方便搭配不同食物。
容易清洗:碟子表面光滑易洗,使用后可轻松清洁。
万寿无疆酱油碟是用餐时的必备小餐具,让您的用餐体验更加完善和愉悦。无论您举办家庭聚餐还是宴请客人,这个酱油碟都能为您的用餐场面增色不少。
您可以在辣妈超市找到万寿无疆酱油碟,为您的用餐场合增添一份优雅和品位。
Currently, we offer shipping services within the United Kingdom, and we also offer local delivery within 10 miles.
Within 2.5 mile
Less Than £15 - £1.99 delivery fee
Over £15, Free Delivery.
2.5 Mile to 5 Mile
Less Than £30 - £3.99 Delivery Fee
Over £30, Free Delivery

5 Mile to 10 Mile
Less Than £100 - £9.99 Delivery Fee
Over £100, Free Delivery