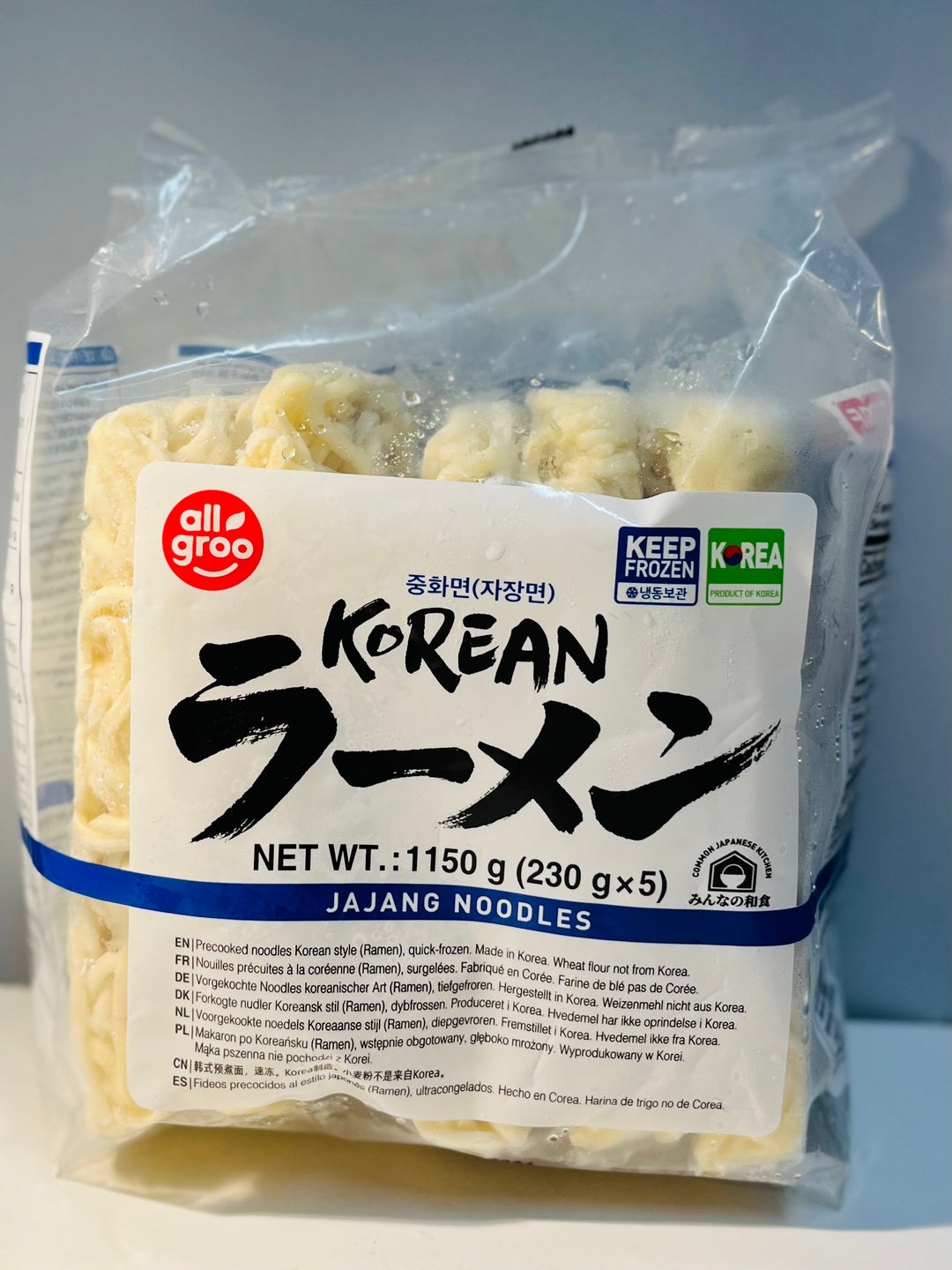 Allgroo fresh Ramen 230g*5
Regular price
£7.99
/
Tax included.
Shipping
calculated at checkout.
---
Local Delivery Within 1 Hour, Up to 5 mile
In stock, ready to ship

Inventory on the way
Allgroo Fresh Ramen 230g x 5
Description: Enjoy the authentic taste and convenience of Allgroo Fresh Ramen 230g x 5. This pack includes five individual portions of fresh ramen noodles, providing a quick and satisfying meal option for ramen enthusiasts.
Key Features:
Fresh and High-Quality Noodles: Allgroo Fresh Ramen is made with high-quality ingredients, resulting in fresh and springy noodles that have a delightful texture when cooked. Each bite brings a taste of authenticity and ensures a satisfying ramen experience.

Convenient Individual Portions: The pack contains five individual portions of ramen noodles, making it easy to prepare the perfect amount for a single serving. This convenience allows you to enjoy a delicious bowl of ramen without any hassle.

Versatile and Customisable: Allgroo Fresh Ramen provides a blank canvas for you to create your perfect bowl of ramen. Add your choice of broth, vegetables, and protein to suit your taste preferences and create a personalised ramen experience at home.

Quick and Easy Preparation: Allgroo Fresh Ramen cooks quickly, allowing you to enjoy a steaming bowl of ramen in minutes. Simply boil the noodles, drain, and mix with your desired toppings and seasonings for a satisfying and comforting meal.

Versatility in Recipes: While traditionally enjoyed with a rich and flavourful broth, Allgroo Fresh Ramen can also be used in stir-fries or cold noodle salads. Explore different culinary creations and expand your ramen repertoire with these versatile noodles.
Experience the convenience and deliciousness of Allgroo Fresh Ramen 230g x 5. Whether you're a ramen enthusiast or looking for a quick and satisfying meal option, these fresh noodles are sure to delight your taste buds. Order your pack today and enjoy the authentic taste of ramen in the comfort of your own home.
Currently, we offer shipping services within the United Kingdom, and we also offer local delivery within 10 miles.
Within 2.5 mile
Less Than £15 - £1.99 delivery fee
Over £15, Free Delivery.
2.5 Mile to 5 Mile
Less Than £30 - £3.99 Delivery Fee
Over £30, Free Delivery

5 Mile to 10 Mile
Less Than £100 - £9.99 Delivery Fee
Over £100, Free Delivery