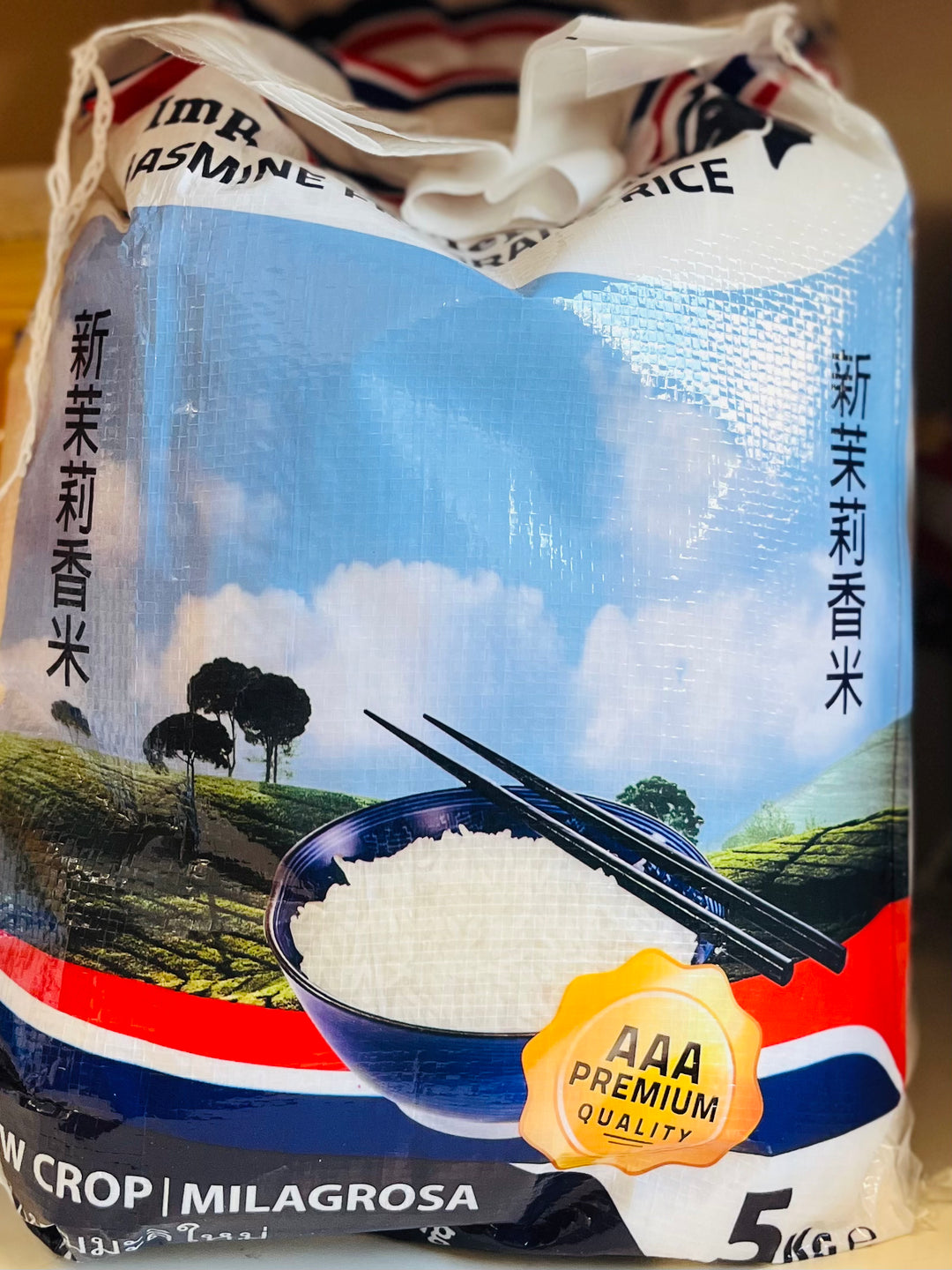 Imperial Elephant Jasmine Rice 5kg
Regular price
£9.99
/
Tax included.
Shipping
calculated at checkout.
---
Local Delivery Within 1 Hour, Up to 5 mile
In stock, ready to ship

Inventory on the way
Imperial Elephant Jasmine Rice, 5kg.
Imperial Elephant Jasmine Rice is a premium-quality rice known for its fragrant aroma and delicate texture. It is a popular choice for various Asian cuisines, especially Thai dishes.
Key Features:
Fragrant Jasmine Aroma: Imperial Elephant Jasmine Rice is prized for its aromatic scent reminiscent of jasmine flowers. When cooked, it releases a pleasant fragrance that adds a delightful dimension to your meals.
Delicate Texture: This rice has a soft and slightly sticky texture, making it perfect for dishes that require grains to stick together. It is ideal for making fluffy and flavorful rice dishes.
Versatile Use: Imperial Elephant Jasmine Rice is a versatile ingredient that can be used in a wide range of dishes, from stir-fries to curries and rice-based desserts.
5kg Packaging: The large 5kg pack ensures an ample supply of rice, making it suitable for households or businesses that frequently use jasmine rice.
Experience the superior quality and aromatic goodness of Imperial Elephant Jasmine Rice, perfect for elevating your Asian-inspired meals.
帝象牌茉莉香米,5公斤。
帝象牌茉莉香米是一种优质米,以其芬芳的香气和细腻的口感而闻名。它是各种亚洲菜肴,尤其是泰式菜肴的热门选择。
主要特点:
芬芳的茉莉香气:帝象牌茉莉香米以其茉莉花般的芬芳香气而备受赞赏。烹煮时,它释放出一种愉悦的香气,为您的餐点增添美妙的风味。
细腻的口感:这种米饭具有柔软而略带粘性的口感,非常适合需要米粒粘在一起的菜肴。它非常适合制作松软而美味的米饭菜肴。
多功能使用:帝象牌茉莉香米是一种多功能的食材,可用于各种菜肴,从炒菜到咖喱和米制甜点。
5公斤包装:大包装的5公斤足够供应米饭,适合经常使用茉莉香米的家庭或商家。
品尝帝象牌茉莉香米的优质和芳香好处,让您的亚洲菜肴更加美味。
Currently, we offer shipping services within the United Kingdom, and we also offer local delivery within 10 miles.
Within 2.5 mile
Less Than £15 - £1.99 delivery fee
Over £15, Free Delivery.
2.5 Mile to 5 Mile
Less Than £30 - £3.99 Delivery Fee
Over £30, Free Delivery

5 Mile to 10 Mile
Less Than £100 - £9.99 Delivery Fee
Over £100, Free Delivery