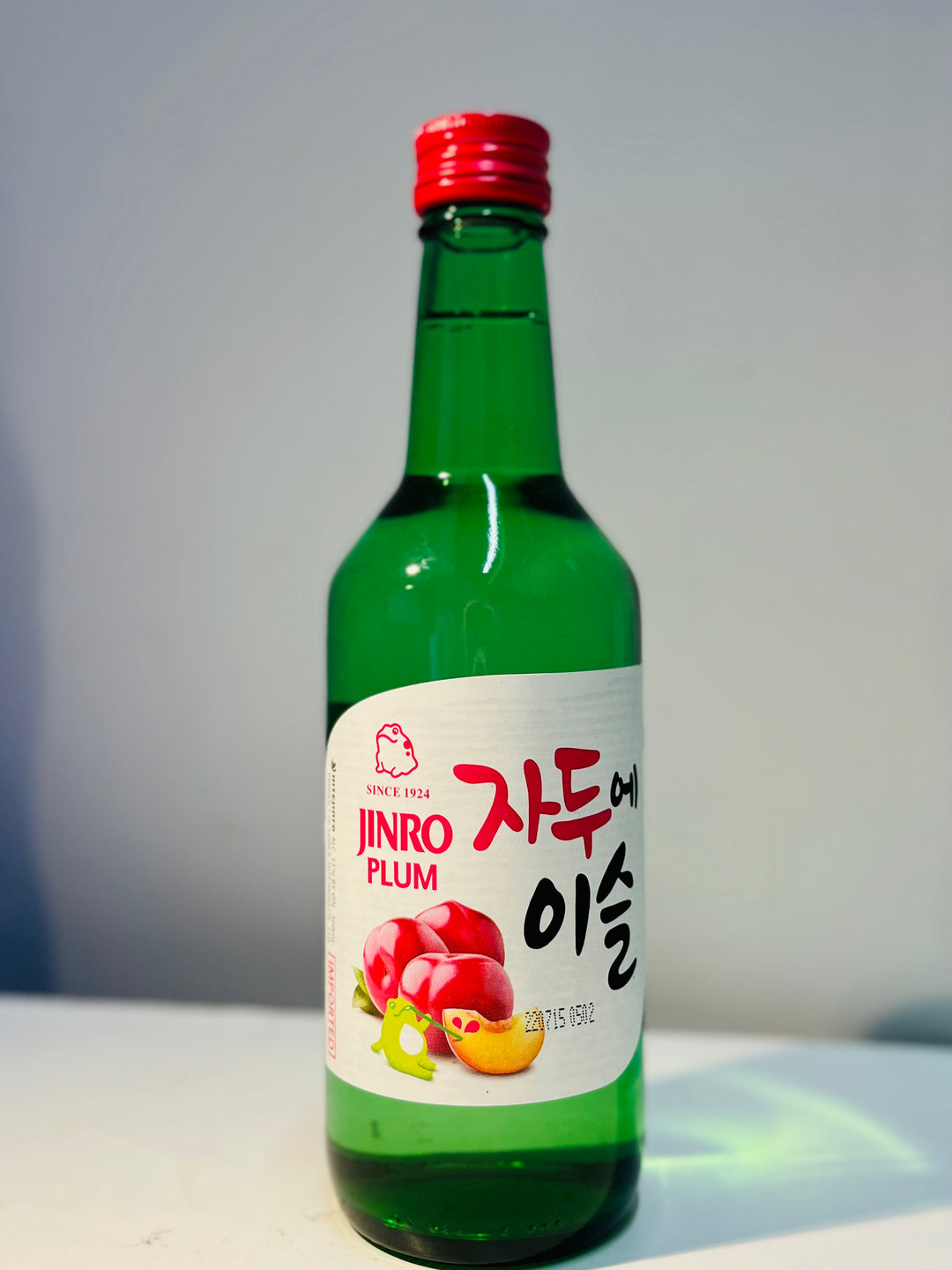 Jinro Plum Soju 360ml 13% Vol 真露韩国烧酒桃李味
Regular price
£8.95
/
Tax included.
Shipping
calculated at checkout.
---
Local Delivery Within 1 Hour, Up to 5 mile
Low stock - 3 items left

Inventory on the way
Jinro Plum Soju 360ml 13% Vol
Jinro Plum Soju is a unique Korean distilled spirit with a delightful plum flavor. It has a moderate alcohol content of 13%, allowing you to enjoy a balanced drinking experience.
Key Features:
Delightful Plum Flavor: Jinro Plum Soju offers a rich and sweet plum flavor that adds a refreshing twist to traditional soju. It strikes a perfect balance between sweetness and the signature smoothness of soju.
Selected Ingredients: Each bottle of Jinro Plum Soju is crafted using carefully selected plums to ensure the best flavor and quality. The result is a captivating taste that will please fruit-flavor enthusiasts.
Cultural Experience: By sipping Jinro Plum Soju, you can immerse yourself in the unique cultural heritage of Korea. It's an opportunity to explore the flavors and traditions of Korean spirits.
Versatile Occasions: Jinro Plum Soju is suitable for various occasions, whether you're enjoying it with friends at a gathering, savoring it during a family meal, or simply indulging in a personal moment of relaxation.
Experience the delightful plum flavor of Jinro Plum Soju and savor the balanced taste and smoothness it offers. Whether you're celebrating, socializing, or unwinding, Jinro Plum Soju is a perfect choice to enhance your drinking experience.
Jinro Plum Soju 360ml 13% Vol 真露韩国烧酒桃李味
Jinro Plum Soju 是一款口感独特的韩国烧酒,带有桃李的香甜味道。它的酒精含量为13%,让您享受到适度的饮酒乐趣。
主要特点:
桃李香甜口感:Jinro Plum Soju 具有浓郁的桃李香甜味道,给您带来愉悦的口感体验。口感柔和,醇厚而不过甜,适合喜欢水果风味的人士。
配料精选:每一瓶 Jinro Plum Soju 都采用精选的桃李原料,经过精心酿制而成,确保口感醇正、口味纯正。
独特的文化体验:品尝 Jinro Plum Soju 可以感受到韩国烧酒的独特魅力,让您沉浸在韩国风情之中。
适合多种场合:无论是与朋友一起聚会、家庭聚餐还是独自品尝,Jinro Plum Soju 都是一款适合各种场合的饮品选择。
尽情享受 Jinro Plum Soju 带来的桃李香甜口感和愉悦的饮酒体验。无论是热闹的聚会还是宁静的时刻,都能为您带来愉快的味蕾享受。
Currently, we offer shipping services within the United Kingdom, and we also offer local delivery within 10 miles.
Within 2.5 mile
Less Than £15 - £1.99 delivery fee
Over £15, Free Delivery.
2.5 Mile to 5 Mile
Less Than £30 - £3.99 Delivery Fee
Over £30, Free Delivery

5 Mile to 10 Mile
Less Than £100 - £9.99 Delivery Fee
Over £100, Free Delivery