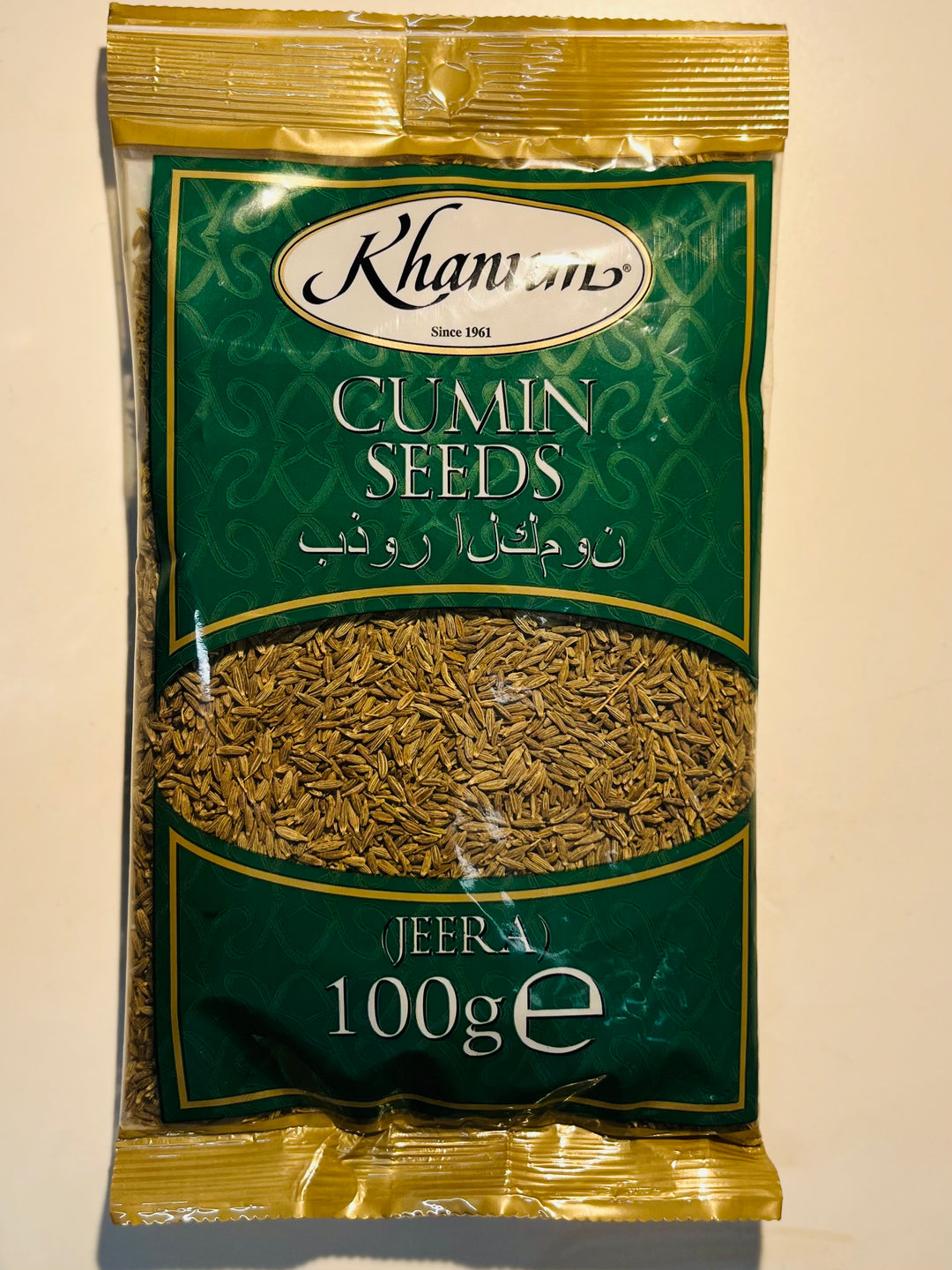 Khanum Cumin Seeds Jeera 100g
Regular price
£1.09
/
Tax included.
Shipping
calculated at checkout.
---
Local Delivery Within 1 Hour, Up to 5 mile
In stock, ready to ship

Inventory on the way
Khanum Cumin Seeds (Jeera) 100g
Khanum Cumin Seeds, also known as Jeera, are aromatic seeds commonly used in various cuisines for their distinctive flavor and aroma. They have been a staple spice in Indian, Middle Eastern, and many other cuisines for centuries.
Key Features:
Rich Flavor: Khanum Cumin Seeds have a warm, earthy, and slightly nutty flavor that enhances the taste of a wide range of dishes.
Versatile Use: Cumin seeds are a versatile spice and can be used in both whole and ground form. They are commonly used in curries, soups, stews, rice dishes, and spice blends.
Digestive Benefits: Cumin seeds are known for their digestive properties and are often used in traditional medicine to aid digestion.
Quality Assurance: Khanum Cumin Seeds are sourced from high-quality cumin plants and are carefully selected to ensure freshness and flavor.
Whether you're preparing an authentic Indian curry or experimenting with international flavors, Khanum Cumin Seeds (Jeera) are a must-have spice in your kitchen. Add them to your favorite recipes to enhance the taste and aroma of your dishes.
Khanum 孜然籽 (Jeera) 100g
Khanum 孜然籽,也被称为Jeera,是一种具有独特风味和香气的芳香种子,常用于各种菜肴中。它们几个世纪以来一直是印度、中东和许多其他菜系的主要香料之一。
主要特点:
浓郁风味:Khanum 孜然籽具有温暖、土气和略带坚果味的风味,可以提升各种菜肴的口感。
多用途:孜然籽是一种多功能香料,既可以整粒使用,也可以磨碎使用。它们常用于咖喱、汤、炖菜、米饭和香料混合物中。
有助于消化:孜然籽以其消化特性而闻名,常被用于传统药方中辅助消化。
优质保证:Khanum 孜然籽采用优质孜然植物提取,经过精心挑选,确保新鲜和风味。
无论您是在准备正宗的印度咖喱还是尝试国际美食,Khanum 孜然籽 (Jeera) 都是您厨房中必备的香料。将其添加到您喜爱的食谱中,提升菜肴的口感和香气。
Currently, we offer shipping services within the United Kingdom, and we also offer local delivery within 10 miles.
Within 2.5 mile
Less Than £15 - £1.99 delivery fee
Over £15, Free Delivery.
2.5 Mile to 5 Mile
Less Than £30 - £3.99 Delivery Fee
Over £30, Free Delivery

5 Mile to 10 Mile
Less Than £100 - £9.99 Delivery Fee
Over £100, Free Delivery