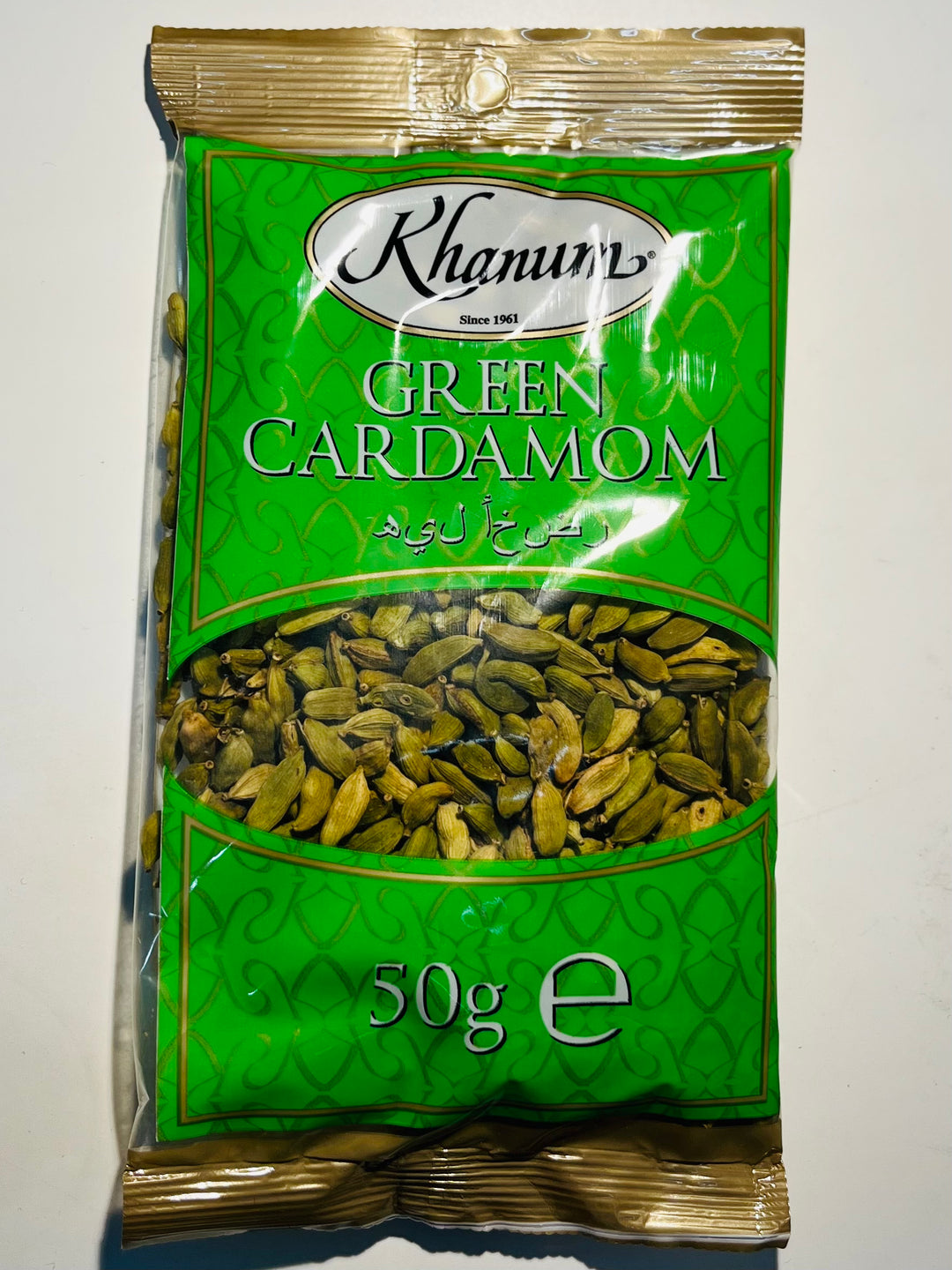 Khanum Green Cardamons 50g
Regular price
£3.79
/
Tax included.
Shipping
calculated at checkout.
---
Local Delivery Within 1 Hour, Up to 5 mile
In stock, ready to ship

Inventory on the way
Khanum Green Cardamons 50g
Khanum Green Cardamons are aromatic spice pods that add a unique and delightful flavor to a variety of dishes. These small green pods contain small black seeds with a distinctive sweet and floral taste. They are widely used in Indian, Middle Eastern, and Asian cuisines for both sweet and savory preparations.
Key Features:
Aromatic Flavor: Khanum Green Cardamons have a pleasant, fragrant aroma and a sweet, slightly spicy flavor that enhances the taste of dishes.
Versatile Usage: Green Cardamons can be used in a wide range of culinary applications, including desserts, beverages, curries, rice dishes, and spice blends.
Natural and Authentic: Khanum Green Cardamons are sourced from high-quality cardamom pods, ensuring a fresh and authentic taste.
Convenient Packaging: The 50g packaging is convenient for storage and usage, allowing you to have a steady supply of this flavorful spice.
Whether you're preparing a traditional Indian dessert, brewing a fragrant cup of tea, or experimenting with fusion cuisine, Khanum Green Cardamons are a versatile and aromatic spice that will elevate your culinary creations.
Khanum绿豆蔻 50克
Khanum绿豆蔻是一种芳香的香料荚果,为各种菜肴增添独特而美味的风味。这些小巧的绿色荚果内含有带有独特甜美和花香的小黑籽。它们被广泛应用于印度、中东和亚洲烹饪中,既可以用于甜品,也可以用于咸菜的制作。
主要特点:
芳香的风味:Khanum绿豆蔻具有令人愉悦的香气和甜美微辣的口味,能够增强菜肴的味道。
多用途的应用:绿豆蔻可以用于各种烹饪应用,包括甜点、饮料、咖喱、米饭菜肴和香料混合物。
纯天然和正宗:Khanum绿豆蔻采用优质绿豆蔻荚果制成,保证了新鲜和正宗的口感。
方便的包装:50克包装便于存储和使用,让您随时拥有这种美味的香料。
无论您是准备传统的印度甜点,沏一杯芳香四溢的茶,还是尝试融合菜肴,Khanum绿豆蔻都是一种多用途和芳香的香料,能够提升您的烹饪创作。
Currently, we offer shipping services within the United Kingdom, and we also offer local delivery within 10 miles.
Within 2.5 mile
Less Than £15 - £1.99 delivery fee
Over £15, Free Delivery.
2.5 Mile to 5 Mile
Less Than £30 - £3.99 Delivery Fee
Over £30, Free Delivery

5 Mile to 10 Mile
Less Than £100 - £9.99 Delivery Fee
Over £100, Free Delivery