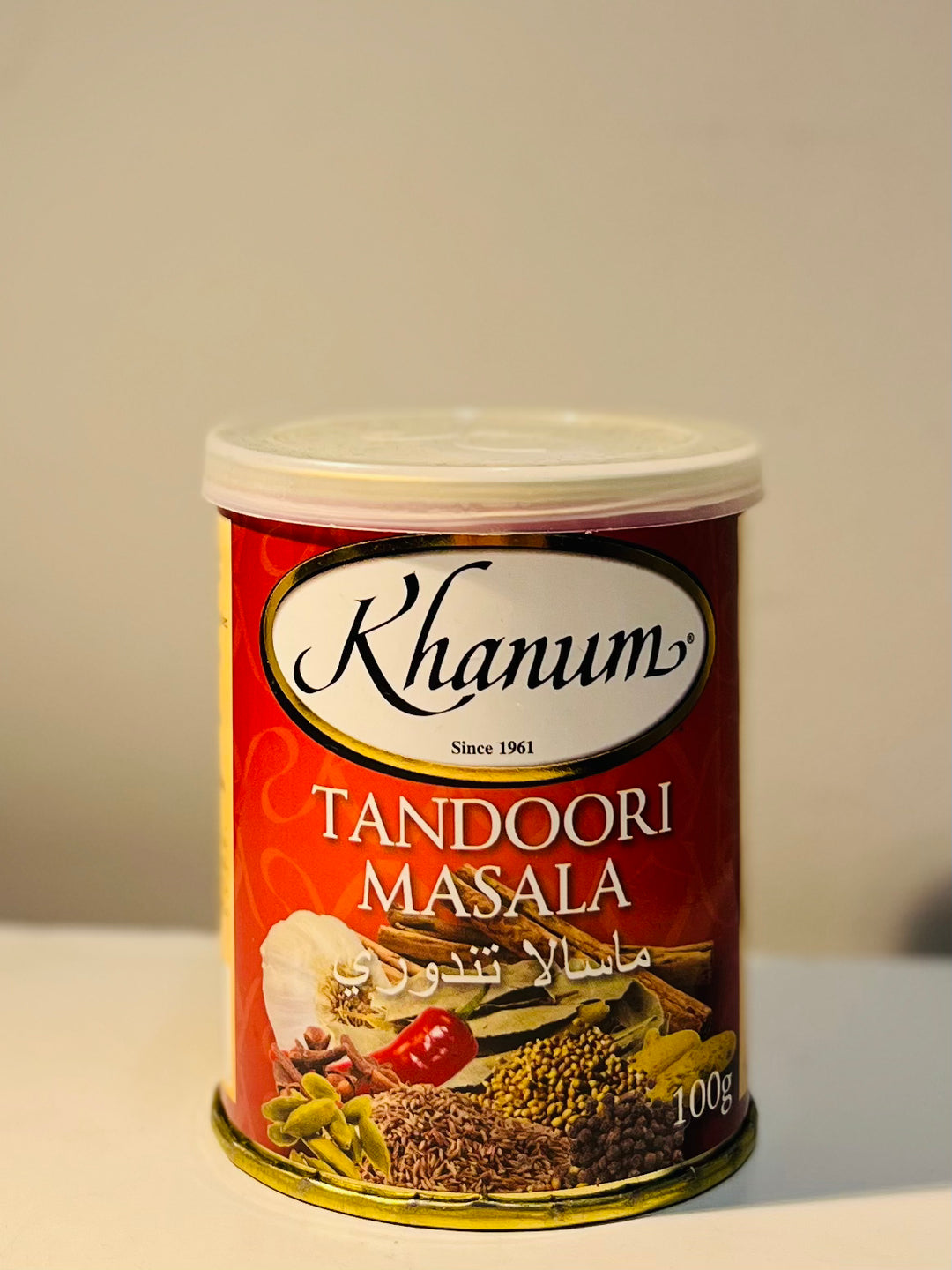 Khanum Tandoori Masala Tins 100g
Regular price
£1.88
/
Tax included.
Shipping
calculated at checkout.
---
Local Delivery Within 1 Hour, Up to 5 mile
In stock, ready to ship

Inventory on the way
Khanum Tandoori Masala Tins 100g
Khanum Tandoori Masala is a versatile spice blend that captures the authentic flavors of Indian tandoori cuisine. This specially crafted blend of aromatic spices and herbs adds a distinct smoky and tangy flavor to your dishes, reminiscent of traditional tandoori cooking.
Key Features:
Authentic Tandoori Flavor: Khanum Tandoori Masala is expertly crafted to deliver the authentic taste of tandoori dishes. It combines a blend of spices such as cumin, coriander, paprika, ginger, garlic, and more, creating a rich and flavorful seasoning that brings your food to life.
Versatile Usage: This versatile spice blend can be used to marinate various meats, such as chicken, lamb, or fish, before grilling or roasting. It can also be added to vegetable dishes, rice, or sauces to infuse them with the distinctive tandoori flavors.
Smoky and Tangy Notes: The combination of smoky paprika, tangy spices, and aromatic herbs in Khanum Tandoori Masala creates a complex flavor profile that adds depth and complexity to your dishes. It brings out the signature smokiness and tanginess associated with tandoori cooking.
High-Quality Ingredients: Khanum Tandoori Masala is made with premium quality spices and herbs, ensuring an authentic taste and aroma. It is free from artificial colors, preservatives, and additives, making it a healthier choice for adding flavor to your meals.
Convenient Packaging: The Tandoori Masala comes in a convenient tin packaging that helps preserve the freshness and flavors of the spice blend. The resealable tin ensures easy storage and convenient access whenever you need to add a touch of tandoori goodness to your cooking.
Experience the bold and aromatic flavors of tandoori cuisine with Khanum Tandoori Masala. Elevate your dishes with this authentic spice blend, whether you're grilling succulent tandoori chicken, preparing flavorful kebabs, or adding a touch of Indian flair to your everyday cooking.
Khanum 坦都里香料罐装 100克
Khanum 坦都里香料是一种多用途的香料混合物,捕捉了印度坦都里烹饪的正宗风味。这款经过特殊调制的香料混合物融合了芳香的香料和草药,为您的菜肴增添了独特的烟熏和酸甜味道,回味着传统的坦都里烹饪风味。
主要特点:
正宗坦都里风味:Khanum 坦都里香料经过精心调配,呈现出正宗坦都里菜肴的口味。它融合了孜然、香菜、红椒粉、姜、大蒜等多种香料,创造出浓郁而有味道的调味品,使您的食物更加美味。
多用途使用:这款多用途的香料混合物可用于腌制各种肉类,如鸡肉、羊肉或鱼类,然后烧烤或烘烤。它还可添加到蔬菜菜肴、米饭或酱汁中,赋予它们独特的坦都里风味。
烟熏和酸甜口感:Khanum 坦都里香料中的烟熏红椒粉、酸甜香料和芳香草药的组合营造出复杂的口味,为您的菜肴增添了深度和复杂性。它带来了与坦都里烹饪相关的独特烟熏和酸甜味道。
优质成分:Khanum 坦都里香料采用优质香料和草药制成,确保了正宗的口味和香气。它不含人工色素、防腐剂和添加剂,是您为菜肴增添风味的更健康选择。
便捷包装:坦都里香料采用方便的罐装包装,有助于保持香料混合物的新鲜度和风味。可密封的罐装方便存储,随时方便地使用,为您的烹饪增添一丝坦都里风味。
通过 Khanum 坦都里香料,感受坦都里烹饪的浓烈而芳香的味道。无论您是烧烤多汁的坦都里烤鸡、准备美味的烤肉串,还是为日常烹饪增添一丝印度风味,这款正宗的香料混合物都能提升您的菜肴。
Currently, we offer shipping services within the United Kingdom, and we also offer local delivery within 10 miles.
Within 2.5 mile
Less Than £15 - £1.99 delivery fee
Over £15, Free Delivery.
2.5 Mile to 5 Mile
Less Than £30 - £3.99 Delivery Fee
Over £30, Free Delivery

5 Mile to 10 Mile
Less Than £100 - £9.99 Delivery Fee
Over £100, Free Delivery